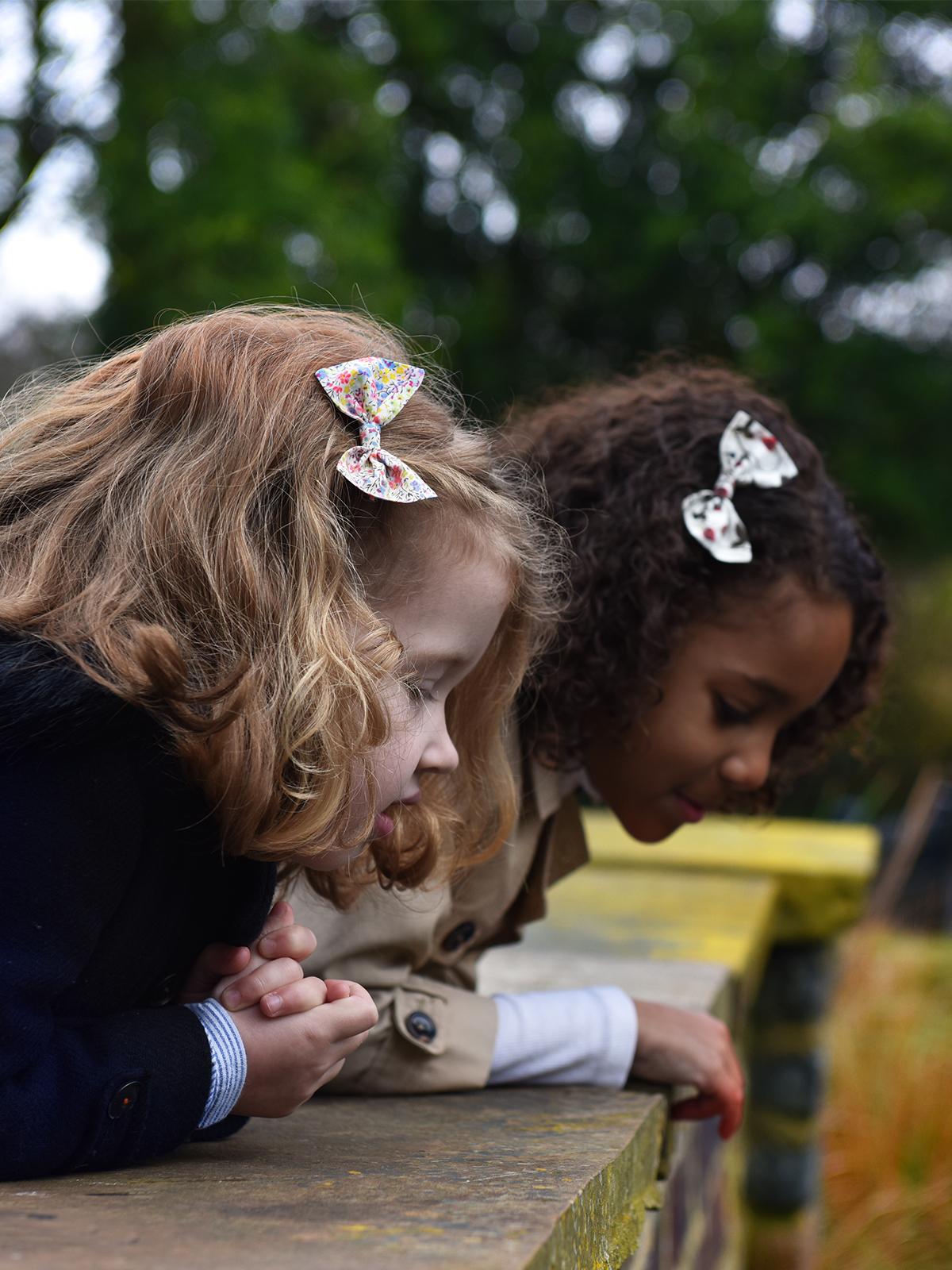 Our Liberty Fabrics Makers
A Chat With…
Essie & Me
Celebrating our worldwide community of Liberty Fabrics artists, designers and creatives
Shop Liberty Fabrics
By: Jess Johnson
The #LibertyCraftClub is truly one of a kind – a global network of Liberty print lovers, who employ imagination, humour and talent to create their unique and characterful designs. Here at Liberty HQ, we always love to see what you've been making. In this instalment of the Liberty Fabrics Makers series, we chat to Sammy from Essie & Me, a family-run childrenswear brand who design and make hair accessories at home in southeast London.
Can you tell us a little about Essie & Me?
Essie & Me is a simple, fun and cool children's accessories brand – and we now do a small women's collection too. The brand was born and made in our home, and we sometimes work with fellow creatives when times get very busy (bring back those days!)
We are a core team of three – Rowena is the analytical mind, Essie (our daughter) is the inspiration,

and

I am the creator/maker.
What inspired you to start your brand?
We never intended to start a brand at all, but because we could never find any accessories that were appealing and suitable to Essie's hair type, my wife started making hair bows and baby headbands for her. Eventually, family, friends and even strangers started asking her to make some for their children as well. Rowena would ask me for design advice on colours, materials etc, and when things got really hectic I would lend a hand with the making of the products.

Little did I know that this helping hand would be vital, as a year later the shop I was working in shut. Without a job and feeling dejected, I started helping Rowena more with the bows – with time, effort and lots of word of mouth, our business became a live entity in its own right, with me leading it.
How has the business grown?
I have grown the business over the years from having only two products, to where we find ourselves today with five collections of hairbows and headbands and a total of 22 product types across our ranges, from Liberty baby bows and headbands to linen bows and upcycled cashmere bows, as well as our recent addition of a women's collection. Life has gone full circle because now I am the head of the business and Rowena focuses on her job – she's still on hand to advise me on colour matches, fabrics and so much more.
Why do you use Liberty Fabrics in your accessories designs?
The ethos of our business has, and always will, focus on quality. Because we cater mainly to children, making sure our products can cope with the not-so-gentle touch of most children was and is vital to us! Every component that we use in each of our products is well made and of an exacting standard.

Rowena was given a Liberty purse from her aunty as a child – her love of Liberty was passed on to me and has had a direct influence on the inclusion of Liberty fabrics in our key collection. Not to mention, the texture strength and ease of use makes the fabric a dream to work with.
What is your creative process like?
My little studio is our spare bedroom in our southeast London home. The room is at the corner of our home with two large windows on either side – the light is amazing and gives great views of city living. My brain is always on create mode, thinking about ways to improve. The one thing that remains consistent is that I want to make products that are a true representation of who we are.

Essie is rambunctious yet reserved, Rowena is cool and classic, and I am the outlandish one. Each hair bow, headband, dickie bow tie, baby product and women's leather hairbow is made with a combination of all these elements – making our products not only reflections of who WE are, but also represents a true family effort. A little bit of us goes into the products we make, and every product is unique!
I always dream big, and encourage Essie to do the same!
Finally – do you have a favourite Liberty print?
Forbidden Fruit, hands down – and our best seller is Betsy in pink.
Liberty Fabrics lovers – we always want to see your creations. Upload and tag us with #LibertyCraftClub so we can see what you've been making, and maybe we'll feature your work in our next series instalment.