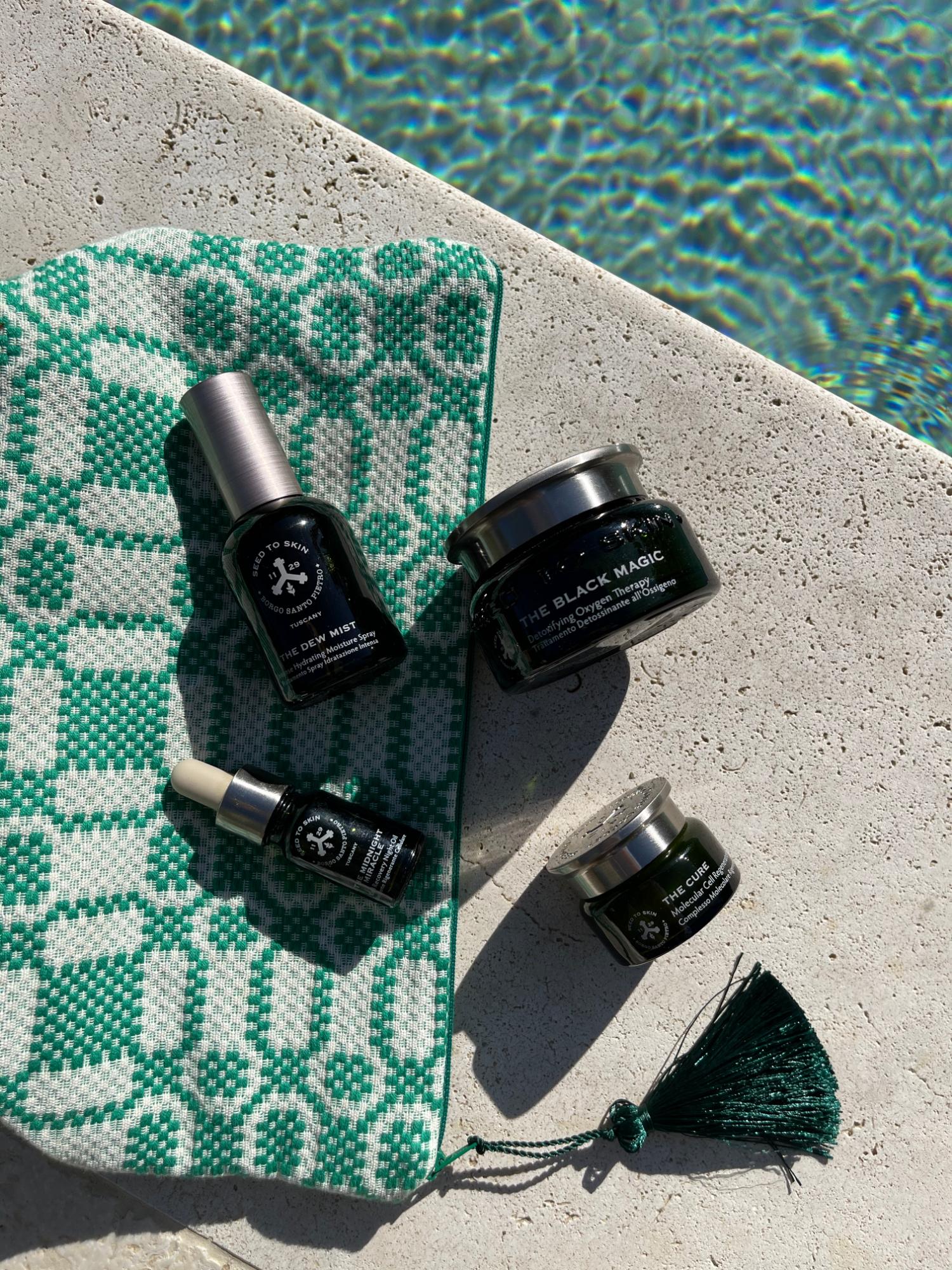 The Cabana Bag
Seed to Skin X Cabana Magazine
Founders Jeanette Thottrup and Martina Mondadori open up the new design collaboration
Shop Seed to Skin
By: Kate Przybyla
Capturing the spirit of escapism with a new collaborative launch, Seed to Skin has teamed up with Cabana Magazine for an exploration in textiles and active skin care. The Cabana Bag packs a power edit of Seed to Skin's botanical-fuelled spa solutions into a vibrant pouch, woven with Cabana Magazine's print-heavy aesthetic and Borgo Santo Pietro's Tuscan surroundings in mind. Here, we talk to Seed to Skin founder, Jeanette Thottrup, and Cabana Magazine founder, Martina Mondadori, about the meeting of minds that brought the escapist partnership into being.
Tell us how the collaboration came about?
MARTINA | I discovered Seed to Skin during the first lockdown. Their relationship with nature and the authenticity of Jeanette's story particularly resonated at that time; Midnight Miracle has been part of my daily routine ever since. Our project felt like a natural consequence of our shared value system.

JEANETTE | I was so thrilled to work with Martina. The collaboration came about as both brands have a shared ethos for artisans and true craftsmanship. Our products are handmade in our on-site lab, so it was a natural progression to work with the great workmanship that Cabana evokes as well.
How does the bag reflect the Seed to Skin ethos?
JEANETTE | We create highly effective, nutrient-rich skin care using only the purest botanicals and raw ingredients found in nature. At our on-site laboratory at the Borgo Santo Pietro estate in Tuscany, I love that we combine natural ingredients with advanced molecular science to harness the true power of nature. We do not relent in research and trial and error to create remarkably regenerative skin care. We look forward to these products coming in this beautifully crafted woven bag that can be taken on your travels, no matter where you go – locally or, if we're lucky, further afield!
Can you tell us about the creative process?
MARTINA | When we were designing the wash bag for the products, I immediately thought of that particular weaving pattern. It is typical of Salento, the southern bit of Puglia in Italy. We have used it to make our Lecce placemats which are one of the most popular within Casa Cabana and, to me, the touch and feel of it gives a very artisanal texture – and a timeless one too.
What does good craftsmanship mean to you?
MARTINA | History combined with a sense of place. Craftsmanship is not only a making technique, but it generally embodies the spirit and traditions of a specific culture. At Cabana, we like to celebrate this unique ethos in the magazine and with our Casa Cabana products.
How does your environment inform your approach?
MARTINA | Living much closer to nature and having a much slower pace in the last 18 months has tremendously helped my creative process and thinking. I do hope we won't go back too quickly to the frantic schedule we had before the pandemic. We have a lot to learn from it all.

JEANETTE | After leading a busy lifestyle as a fashion designer with my own company, I settled down to have a family, but we found out we could not have children. After no luck with IVF, I began researching natural medicine, sure I would find a solution. My husband Claus and I spent two years going through detox, balanced diets, and acupuncture, and in 2006 I gave birth to our son. That is essentially how Seed to Skin began and our environment completely informed our new approach to skin care. I knew I wanted to share with people how to live a natural and balanced life.
How does the collaboration capture the spirit of escapism?
MARTINA | The Seed to Skin products are like a Proust Madeleine. Their smell triggers your imagination and brings you straight into those wonderful fields in Tuscany and connects you with nature. Our wash bags are very artisanal and textured so the synergy with the products is incredibly transportive.

JEANETTE | Our 300-acre organic estate provides an endless bounty of ingredients for Seed to Skin: lavender, St. John's wort, wild mint, marigold, rosemary, milk from our sheep. Our farm is home to free-range chickens, honeybees, pigs and alpacas as well as a vegetable garden, nut orchards, fruit trees, a fermentation lab and a stillhouse where essential oils are extracted, for a true self-sustainable ecosystem in full respect to Mother Nature.

Our deep-rooted wellbeing is in our DNA as the village once served as a healing sanctuary using the herbs and plants of the land to create remedies to cure weary travellers. ⁠We have continued these traditions, providing a retreat for the modern day pilgrim and giving guests the chance to shed the stresses of a hectic life and fall back into a slower way of being.⁠
Why did you choose these four products for the edit?
JEANETTE | This selection of Seed to Skin favourites was hand-picked by Martina. Our Black Magic Face Mask has become a much-loved, all-in-one therapy by resurfacing, detoxifying and firming while energising the skin down to the deepest level, with volcanic clay, rich minerals and activated charcoal to exfoliate gently. The Dew Mist is perfect to keep in your purse to feed skin with instant hydration and gives a moisturising glow. The Cure and The Midnight Miracle can be used together in your daily ritual too, adding a few drops to The Cure for an extra skin boost in the evening.
How does the project reflect conscious practice?
JEANETTE | We pledge to ensure our products are naturally pure, scientifically proven and honestly effective, using the highest quality natural, organic and wild ingredients and creating products on-site for guaranteed traceability. What we don't grow ourselves, we source from selective environmentally conscious micro-producers and wild foragers. Our entire line is cruelty-free and our green glass jars can be recycled or reused to minimise environmental impact for a 360° approach to slow skin care.

MARTINA | If something is properly made it is sustainable, and Seed to Skin products – like Casa Cabana's – are created in small batches with integrity, honesty and love, supporting traditional craft techniques and production methods. These practices have been going for many years, and Jeanette and I, as co-founders and individuals, swill do our utmost to protect these artisans at all costs.