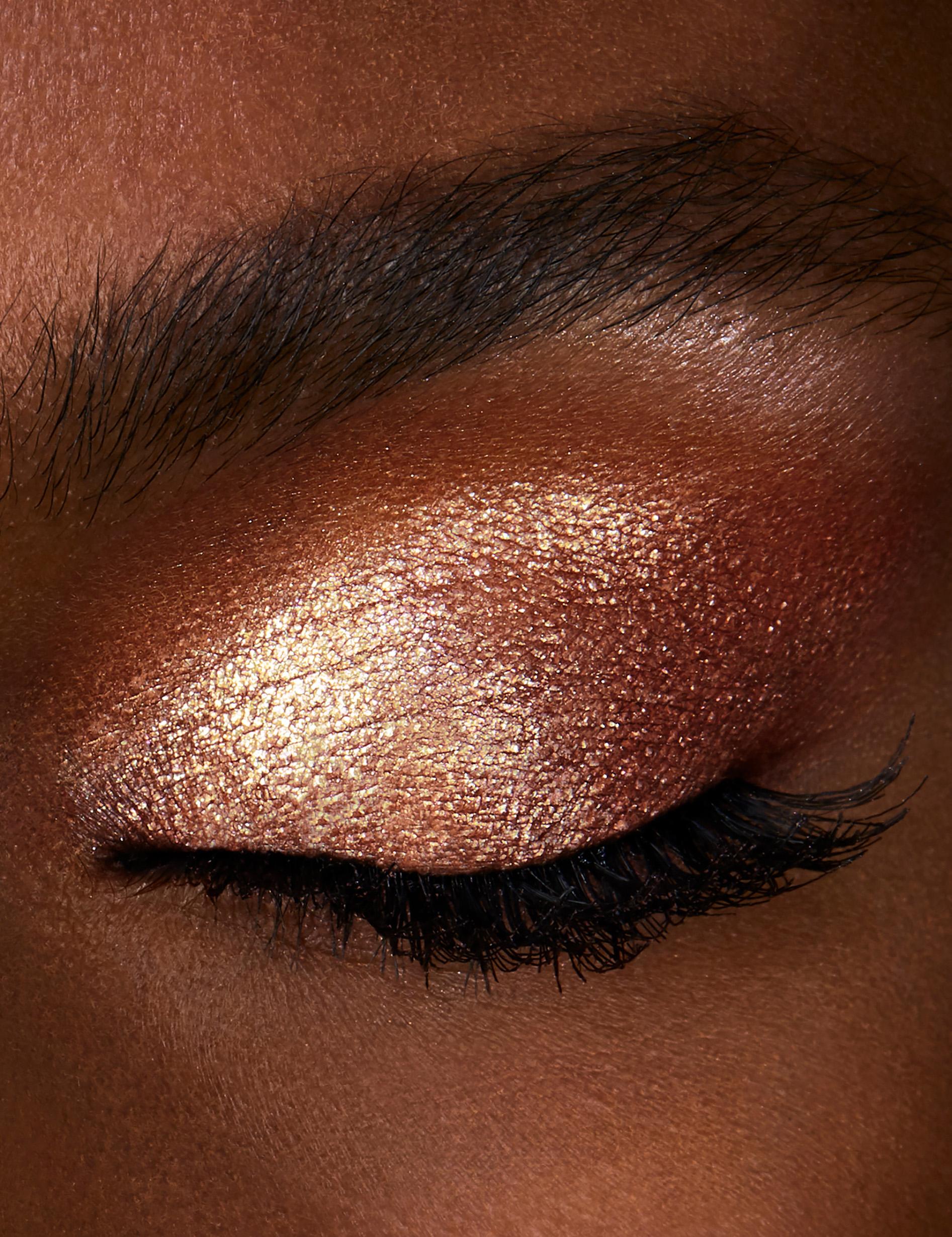 Shine On This Party Season With a Sparkly Eye Look
Glitter season comes but once a year. We bring you Liberty's guide to the perfect sparkly eye whether you're all in or prefer a light touch
By: Laura Kennedy
For a few weeks annually, all 'beauty rule' talk is set aside and glitter is in. There are no rules anyway – beauty is about wearing what gives you joy – but a glittery eye is beauty's Mount Everest for many of us. We have a lot of respect for those who attempt it. We think 'good for them – that must have taken a lot of dedication and training', and then we find a comfortable chair and just settle in with a cup of tea. We think that glitter (like climbing Everest) is for 'other' people. We couldn't, shouldn't, wouldn't dare.

This sparkle fear is misplaced – it does look good on everyone, injects light and fun into makeup, and can be incredibly chic and subtle if that's the look you prefer. A glittery eye can take its inspiration directly from the most gloriously over-the-top Christmas tree, or it can feature a soft, barely-there buttery glimmer. It's a look that will enhance every type of party season makeup whether you want to make for the summit or stay cosy down in base camp.
The Minimalist
Less is more for the minimalist, so we're steering away from chunkier glitters and bright shades and veering more toward softly light reflective nude shades that are more 'daytime' than 'party time'. The minimalist is chic, noncommittal and wants to dip a toe in sparkle without feeling like it's wearing her.
Brighten Up
Celebrity and Editorial Makeup Artist Francesca Jordan knows good eye makeup. She suggests that "for a daytime sparkle I would use a sheeny based eye shadow cream or powder, as the outcome will be more subtle." Apply some with a fingertip to the centre of the eyelid and the inner corners of the eye." To maximise subtlety, "aim for a tone that is brighter and lighter than your own skin tone".
The Moderator
The moderator is spontaneous. She's always open to last-minute plans and she wants an eye that will look appropriate at lunch with friends but can also take carry her to an evening out without top-ups or extra effort. She's open to colour and trying something new but she's never 'all in'.
Draw the Line
Jordan advises that sparkle "with a liquid base tends to pack more punch than powder. If you really want to amp up the sparkle, I would use a wet glitter product and line the lids of your eyes as you would with an eyeliner."
The Maximalist
'All in' perfectly describes the maximalist. She's all about a statement, wearing a deep smoky eye during the day and adding a rich jewel tone to light-reflective eye. She has a magpie's eye for sparkle and will indulge in every form – chunkier glitters, wet-look shimmers and lucent lustres are all on the table for the maximalist. If it's shiny, she's in.
The Lure of the Dark Side
Jordan says that for "a full glam glitter, I would focus on creating a dark smoky eye first - this gives us a contrasting base for the glitter to really pop."