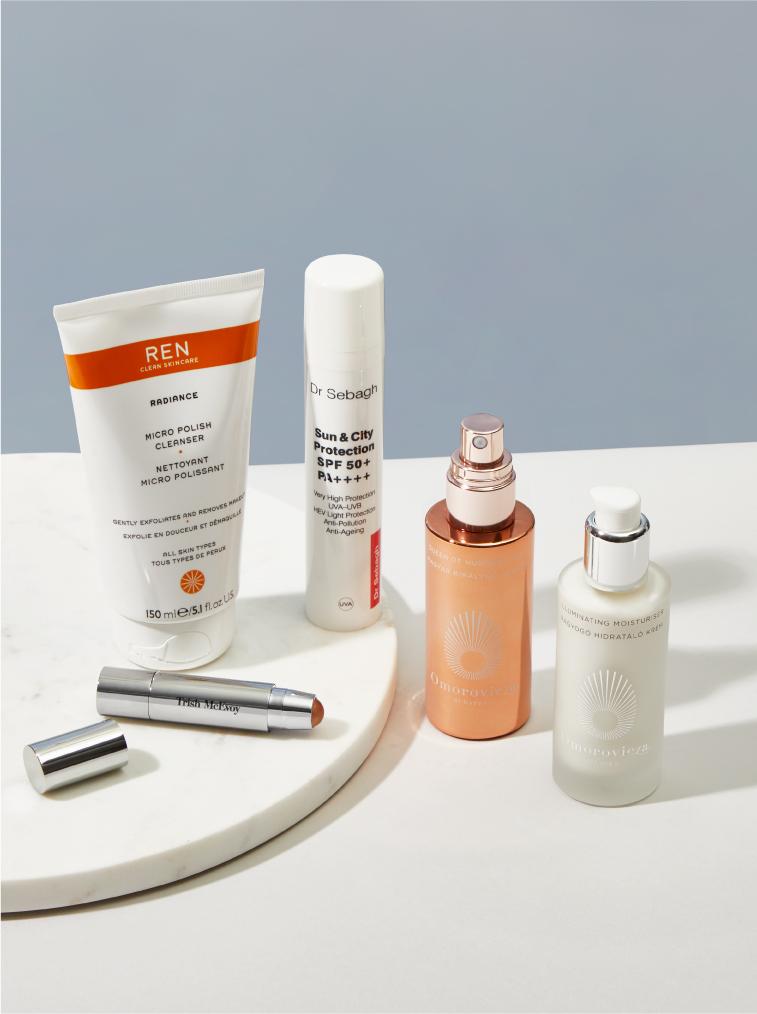 5 Steps to
Summer Skin
Breaking down your beauty regime for healthy, summer-proof skin
Shop Sun Care
By: Kate Przybyla
Warm weather can require a total rethink of your skin care regime. As the mercury rises and UV levels soar, so does the risk of dehydration and sun damage, meaning greater lengths are needed to protect our skin's health. Follow our five-step routine to keep skin nourished and protected in the face of summer's harshest elements.
Exfoliate
Summer exposes our skin to surface damage and oil build-up, so a good exfoliation routine is a must. Just avoid over-abrasive formulas; you can boost your skin's turnaround process with a gentle polishing cleanser. By sloughing away dead cells, healthy young skin will be brought to the surface for a brighter complexion.
Shop now
Hydrate
While intensive moisturisers will be too heavy for most, keeping skin hydrated in summer is still an essential step. Look for a lightweight, fast-absorbing cream, or a gel-based hydrator if your skin is more oil-prone. An illuminating formula will promote a healthy glow – and could mean you can skip the makeup.
Shop now
Protect
We don't need to tell you about the importance of SPF. And in summer, even cloudy days aren't a free pass to go without. For maximum protection that won't break you out, follow your moisturiser with a broad-spectrum, face-specific sunscreen. If shine is a concern, look for mattifying formulas that combat excess oil.
Shop now
Illuminate
Don't let sun exposure and dehydration dull your complexion. While good skin maintenance is key, a little help from radiance-enhancing makeup or moisturisers will go a long way. To take a more targeted approach, a slick of cream bronzer across the high points of your face promises an instant lift for sun-kissed skin.
Shop now
Revive
Even with a fine-tuned morning regime, product slip-off and dehydration can leave skin lacking before the day's out. Not just for cooling relief in the heat, carrying a replenishing mist will remoisturise, hydrate and give skin an on-the-go boost. Bonus points for antioxidant ingredients that barrier skin against oxidative stress.
Shop now