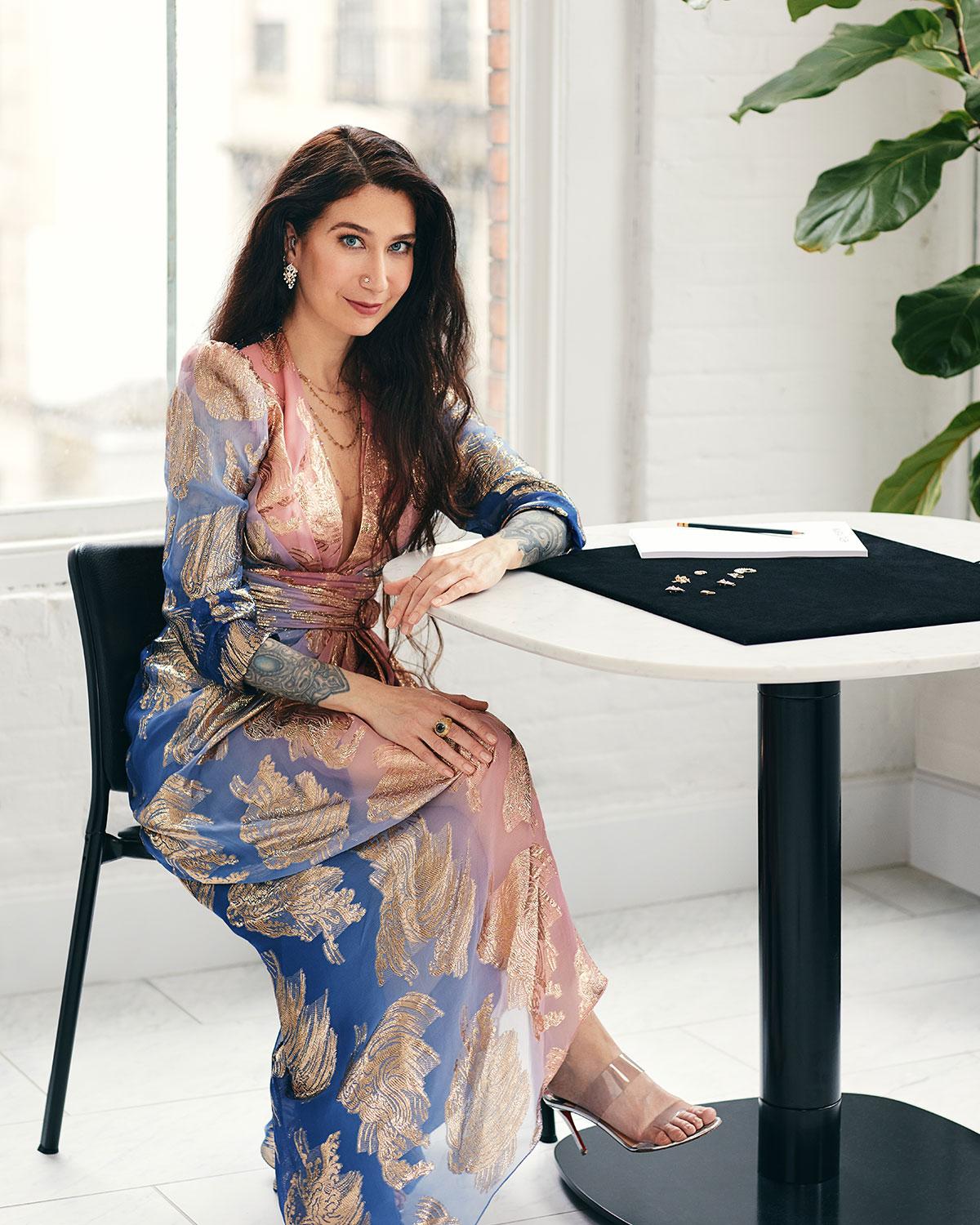 View all Store Services
Maria Tash Piercing at Liberty
Expert piercing services in the New York pioneer's first UK home
Service details
MARIA TASH has revolutionized the fine jewellery and luxury piercing industries. The brand is known for self-expression; the Curated Ear® is a technique Maria herself developed where clients combine studs and rings in unique stylings that reflect their personal aesthetics.

Located on the ground floor of Liberty, this spacious destination has four private piercing rooms and an expert team of stylists and piercers. Experience a full suite of services including styling, piercing, check ups, and consultations.

In need of some inspiration? Have a browse here or come in for a consultation with one of our highly skilled piercing specialists or stylists.
Opening hours
Maria Tash follows our regular store opening hours. Please note, this may change to reflect bank holidays and seasonal hours.
Book now
Walk-in appointments are sometimes available but we recommend booking in advance to avoid disappointment. To book, please click here or call +44 (0)20 8159 6563.
Piercing Menu
Earlobe - £20 / Outer Ear Cartilage (Helix) - £25 / Tash Helix - £40 / Tash Hidden Rook - £55 / Inner Ear Cartilage (Tragus, Rook, Conch, Forward Helix Orbit) - £35 / Nostril or Septum - £35 / Navel or Nipple - £35 / Dermal or Surface £75 / Sterilisation & Insertion into existing piercing - £15

Please be aware that all piercings at the Maria Tash piercing studio can only be pierced with Maria Tash jewellery. Service cost does not include price of jewellery.
You must be over the age of 18 to get a piercing unaccompanied by an adult.
Those under the age of 18 must be accompanied by their legal guardian. Both child and legal guardian must have a valid photographic ID or equivalent with them on the day (e.g. passport, driver's license, birth certificate). If child and legal guardian's last name are different, proof of guardianship must also be presented (passport, birth certificate etc.).
A valid photographic ID or equivalent will be required for proof of age. Where this is not present, the piercing team have a legal right to refuse service.
Children must be aged 8 or over to have an earlobe piercing, and aged 16 or over for cartilage piercings.
You must be aged 18 or over for nipple, navel and nose piercings.
All the Maria Tash jewellery is nickel-free 14K to 18K gold, or medical grade titanium.
Clean your piercing morning and night until it is fully healed, which can take several months to a year, depending on the piercing and your own body. Cleaning more than four times a day or using harsh cleaning products can irritate your piercing and delay healing.
Do not remove your jewellery during healing time as it will begin to close immediately, making it difficult to reinsert. If your jewellery is uncomfortable and needs to be refit during the healing period, please come back to Maria Tash at Liberty London for an adjustment.
Avoid touching the piercing with un-washed hands and fingernails, or getting other people's saliva or bodily fluids in the area.
Avoid friction and pressure, such as sleeping on the piercing or tight clothing during the healing period.
Swimming in chlorinated pool water or fresh water lakes during the first six to eight weeks of the healing period should be avoided. Clean salt-water swimming locations are better for your piercing.
We recommend using NeilMed Wound Wash fine mist spray. Apply this directly to the piercing, then, using a high-quality cotton bud, gently clean around the front and back of the piercing. Do not move the jewellery or touch the piercing outside of the cleaning routine.
If you experience a build-up of dried matter on the piercing, use warm water on a paper towel, this will reduce the matter. DO NOT pick or pull the dried matter as they are attached to the healing tissue and will aggravate your healing process.
When showering, be careful to keep soaps, shampoos and body washes away from a fresh piercing.
DO NOT turn or rotate your jewellery as this will aggravate your healing process.
DO NOT clean your piercing with alcohol or bactine as none of these products are designed for deep wound care.