#LIBERTYOPENCALL
Liberty Open Call
Discovering the unusual and the talented
Liberty Open Call made its return for 2018 - and this year we focused on finding the best untapped interior design talent in the UK. In January, we invited designers, makers and craftspeople to upload a photo of their product to Instagram using #LibertyOpenCall for the chance to be stocked in our world-famous home department. After receiving 9,500 incredible entries, we whittled down a shortlist and asked the public to show the love for their favourites. With your help, our buyers selected three incredible winners, revealed at London Craft week. Get to know them here . . .
Shop Interiors

Katch Skinner, Egg Cups
@katch_skinner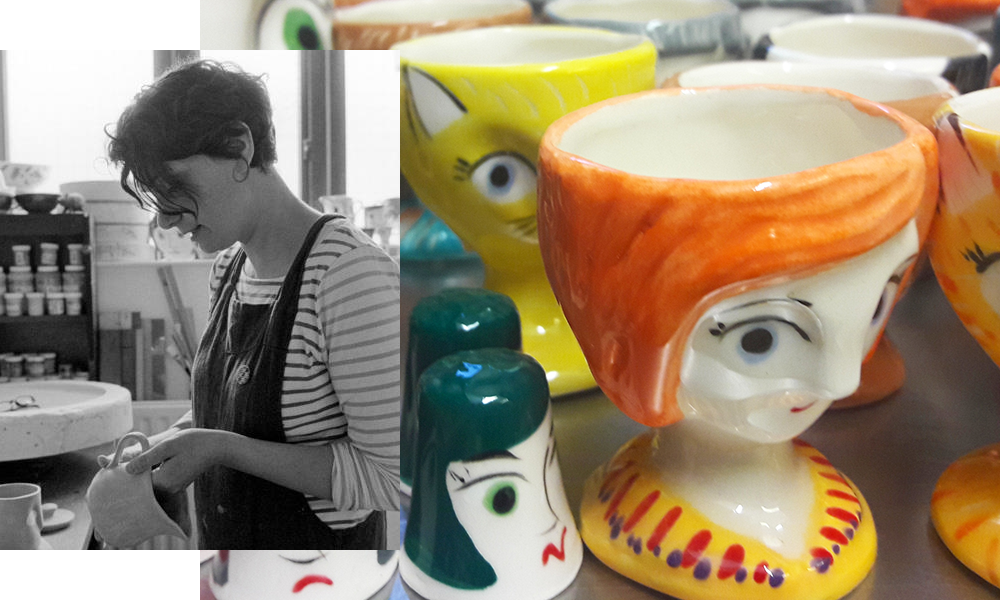 What three words best describe your work? Characterful, illustrative, ceramics
Why ceramics? I love the process of taking the wet clay and changing it be something totally different from its original state. There is still an excitement for me every time I go to open the kiln. It's a medium that keeps you on your toes and has an addictive alchemy.
How did you learn your craft? I started through taking an evening class and soon got hooked, from this I went on the study ceramics and printmaking as a mature student. I feel that I am continually learning from my practice but most of all I think I have learnt so much from teaching ceramics, it's a weekly discovery for new things.
I am overwhelmed to think of my work being stocked at Liberty, it's an amazing opportunity. I am very thankful to all the people that voted for me and the buyers for picking my work. I have been enjoying making new pieces for the store and have embraced the challenge of increasing my scale of production. I am excited to see my egg cups in-store and online.
Where do you find inspiration? My auntie used to have these amazing ceramic mugs with feet on which always fascinated me, the idea of taking something from the mundane and giving it a narrative is the starting point of a lot of my work.
How long does each piece take to complete? Once the mould is made, it can then take over a week to make an egg cup, it is slip cast and needs a day or two to dry before underglaze and sgraffito are applied. This is then fired to bisque and takes around two days in the kiln. It then has to be glazed and re-fired to an earthenware temperature. Often my larger work can take up to four firings if I am using lustres or decals.
Before now, what has been your greatest creative achievement? I have been working on a project called Women in British History over the last few years, the work has been shown in different stages of development in many exhibitions. The feedback and comments so far from visitors have been amazing and the list of incredible women keeps growing. More work from this project will be shown in different venues throughout this year including Platform Gallery in Clitheroe, Cartwright Hall in Bradford and Abbey House Museum in Leeds.
Alex Chinneck, Broom & Clock
@alexchinneck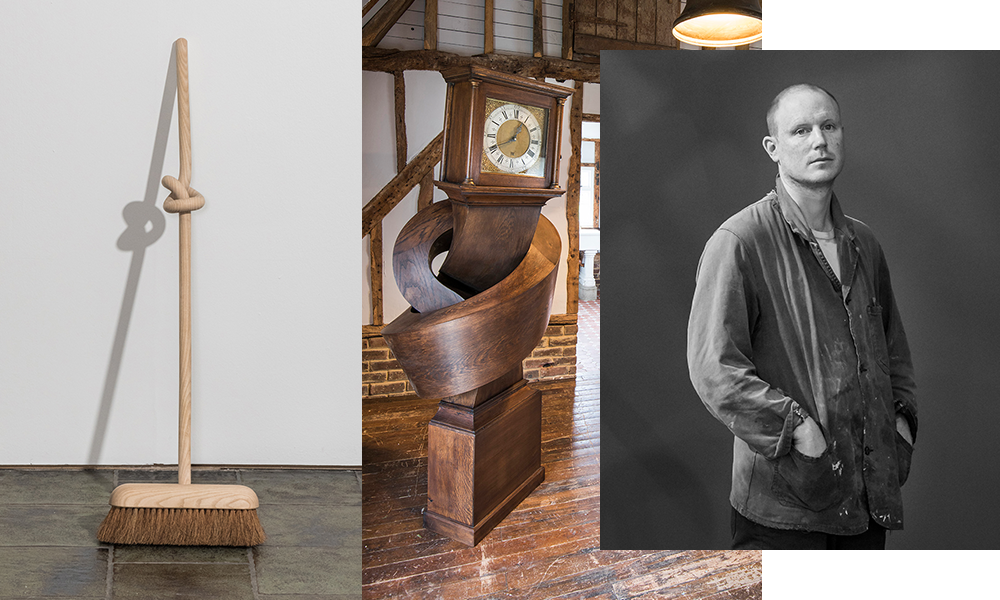 What three words best describe your work? Complex. Playful. Illusory.
Why wood? I like to introduce sculptural fluidity to typically inflexible forms. The knotted wooden broom transcends its material nature and by re-imagining a traditional, domestic item in a contemporary way. The work seeks to achieve a timeless quality.
How did you learn your craft? I studied at Chelsea College of Art and in the 10 years since have delivered a succession of projects that have spanned multiple disciplines, materials and techniques. The broom represents one of many material explorations whose unifying objective is to push the boundaries of materials and their sculptural potential.
My studio typically produces major public artworks and the broom represents the beginning of an exciting new move into producing work that simultaneously occupies the territories of sculpture and interior design.
It is an honour to be given this opportunity to work with Liberty, who for so long, have been intrinsically associated with the best of British craft and design. Winning the Liberty Open Call gives me the platform and encouragement to continue producing work of this scale, which for the first time, opens up the possibility of people owning a piece of my work.
Where do you find inspiration? I like to make every day items appear extraordinary, so I look on the world with a Surrealist's eye. In my world, where the normal rules associated with materials no longer apply, wood bends, brick curls, stone hovers and brick melts. In that sense, I can and do find inspiration everywhere.
How long does each piece take to complete? It has taken months of sculptural exploration and refinement to reach a point where we can hand-carve a knotted broom in 10 days. It is an incredibly labour- intensive process and we have therefore decided to produce them as a limited-edition of 25.
Before now, what has been your greatest creative achievement? Given the ambition of my public projects, which is ever-growing, I consider all of them to be incredible achievements. I am currently working on a project in Sheffield which is arguably the biggest public sculpture in the country. It's not completed yet but we're already two years into the planning process, and it's getting to the point where I can really visualise the completed work, which is exciting.
Alex Chinneck's latest artwork, 'Growing Up Gets Me Down', transforms an antique grandfather clock into a contemporary sculpture. The spectacular piece, which is on show and exclusively available at Liberty, achieves the seemingly impossible task of tying the body of a longcase oak clock into a knot.
My two passions are making sculptures and collecting antiques. 'Growing up gets me down' unties these interests in a playful yet technically complex way. The grandfather clock takes the idea of re-imagining and re-purposing a traditional household item onto another level and we've been able to produce a sculptural object which is also a fully functioning time-piece.
Rūta Bartkevičiūtė, Ceramics
@ruta.bart.ceramics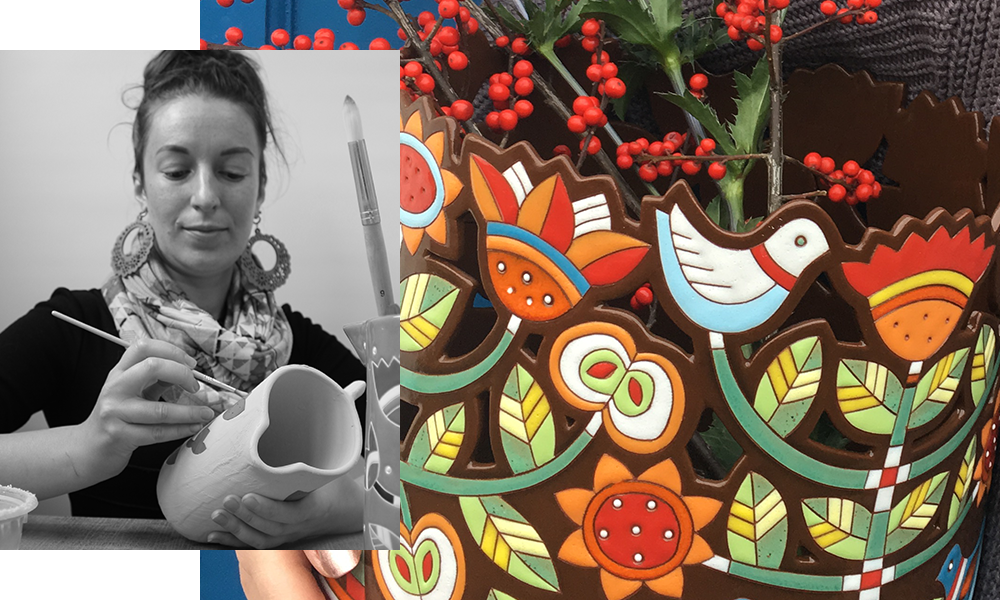 What three words best describe your work? Colour. Love. Celebration.
Why ceramics? Clay is such a tactile material to work with. The whole process is pure meditation and I enjoy its transformative qualities from mud to something beautiful. I love the fact that you can create something from nothing - the results are always exciting for me.
How did you learn your craft? I have been studying ceramics for four years at Vilnius Academy of Art in Lithuania. And further developed my skills and knowledge at Vilnius Academy of Art, where I did my Master's degree in Ceramics. I'm still learning something new every day, that is why I keep coming back.
Where do you find inspiration? I channel my inspiration from nature, folk art, symbols and ancient cultures. I'm particularly inspired by things that I have loved since childhood: fairy tales and toys.
Some of my first customers used to say that my pieces would suit being in Liberty, five years later I have found out that I'm one of the winners of Open Call. I'm overwhelmed with excitement and feel this has changed my career. It is a huge opportunity to get to work with such a prestigious company which attracts many interesting people.
How long does each piece take to complete? It can take anything from two hours for a smaller piece up to two weeks for a larger piece. Actually, most of the time I spend creating a piece in my head. A making process is not that long.
Before now, what has been your greatest creative achievement? I have participated in many ceramics shows and craft fairs. In 2014 l was selected to represent Lithuania as a young talent at European Ceramic Biennial. Since 2017 I'm a selected member of CPA (Craft Potters Association). l have held four solo exhibitions.
Here at Liberty London, we strive to seek out, nurture and promote emerging design talent - and our Home department houses diverse artisans from across the globe. Discover just some of our exclusive brands right here.

#LIBERTYOPENCALL