Interview
Sweet Harmony: Rave Today
Vinca Petersen
The photographer reveals the story behind her images documenting the free party movement
Shop tie-dye
From fresh fashion interpretations including tie-dye and bucket hats, to countless film tributes - the world's longstanding fascination with rave culture seems to have reached new heights. Arriving at the perfect time, the Saatchi Gallery's Sweet Harmony: Rave Today exhibition captures the spirit of the free party movement – and highlights the impact of rave culture on youth today. The major retrospective includes extensive works by photographer Vinca Petersen who, finding herself in the midst of the late '80s free party scene, documented the euphoric anarchy of the Second Summer of Love. We sat down with Petersen to discover why the movement still has such relevance.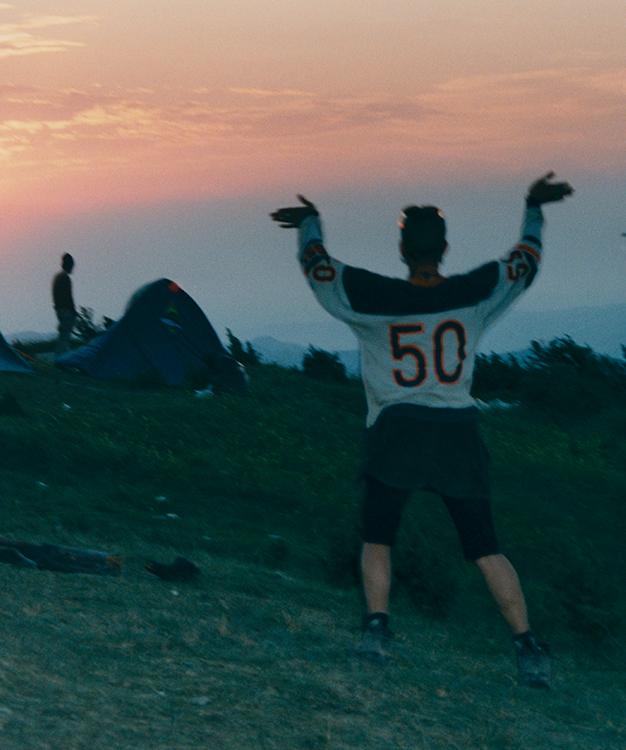 How and when did you find yourself in the midst of Second Summer of Love?
I left school and home as soon as it was legal and moved into a squat in London with the intention of going to art college. It happened to be 1989 and as a bored, frustrated 17-year-old finding the squatting community - a family of like-minded, creative people – it was like being saved. That world provided a more inspirational way of thinking and environment for me than any college could have done at that time. I blew out the idea of college and got various part time jobs and started to make my life in that alternative society.
The feeling the raves, squats and free parties offered was a society full of unity, love and fun that was irresistible.
Why did you decide to document it?
I never made a conscious decision to document my life but I always had a compulsion to record not only the adventures I found myself on and scenes I witnessed but also me, how I felt, how I looked and what I was thinking. My father was an amateur photographer and painter so that must have influenced me - but my version of this recording of things was more intense and personal than his.
What does the free party movement represent to you?
Where do I start... it represents freedom of expression, a platform for artistic and creative people and an alternative to the grey and cynical status quo on all levels.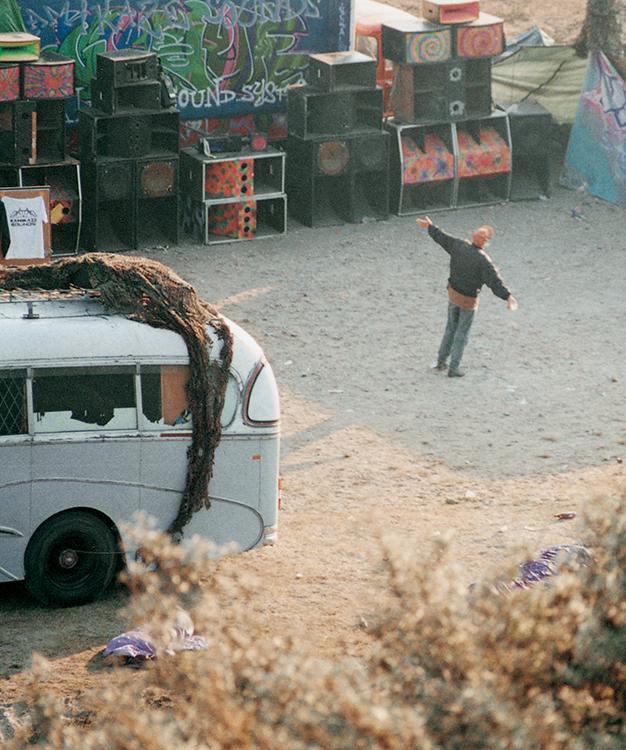 Why did it capture the imagination of so many people?
The suppression of the Thatcher years was unbearable for so many. Anyone creative or community minded felt ignored, trampled on, unvalued and repressed. The feeling the raves, squats and free parties offered a society full of unity, love and fun that was irresistible. A huge breath of fresh air.
Are aspects still prevalent today?
Now that squatting has been made virtually impossible it is much harder for people to pull off the events that fuelled the very public movement of 1989 but the need and want is still there and people are finding ways to generate similar events and environments. Without the squatting scene to house the community and rents being so unaffordable it's tough, but determined people will always find a way.
The cynical appropriation of any alternative scene by invasive, parasitic capitalism is also a huge problem. No sooner have we created or thought something than it gets appropriated and sold back to us. But again, we can find ways around this. It's a kind of battle for creative freedom and freedom itself.
Why do you think tie-dye became part of the uniform?
Tie-dye fits in with the DIY ethos of free parties and rave. One creates the garment oneself and the process is very freeform and of course the randomness of the results is exciting – you never know what your t-shirt will look like until you take it out of the dye. The bright colours and 'trippy' patterns of tie-dye also fitted in with the aesthetic of the rave movement.
What do you make of its renaissance?
It's a natural thing. The government oppresses, people want to break free. All my work as an artist is around this theme – the need for personal and creative freedom.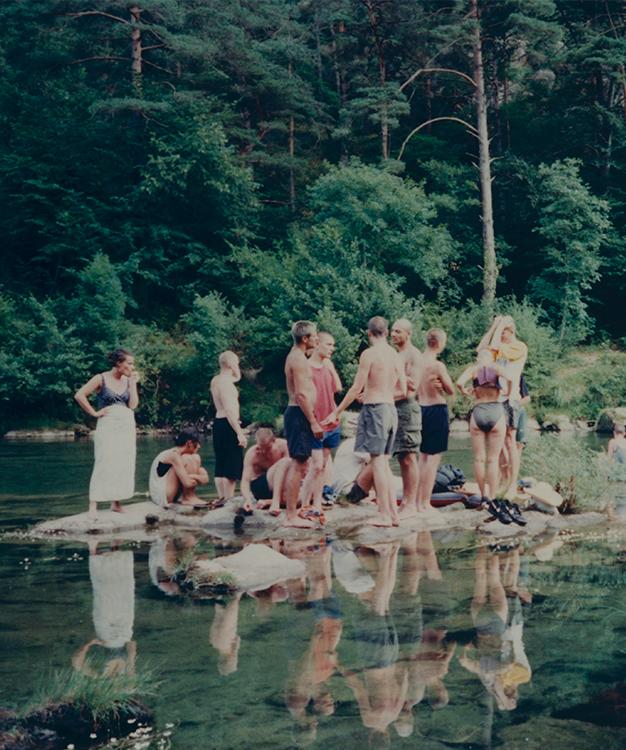 What are some of your favourite mementos from the time?
My installation piece A Life of Subversive Joy has over 900 photos and pieces of ephemera from my life from 1988 until now. Each piece within the work is a valued memento and has a story of its own and they all fit together as a modern history of the life of a raver. An object in my archive that does stand out in my mind though, is a Big Road Atlas of Europe with very thumbed and creased pages which I treasure. It represents that time before mobile phones and the internet, when you could still get lost.
Can you tell us about Future Youth Project?
When I had my son in 2005 I settled for the first time and this finally gave me the opportunity to attend art college and create theoretical framework for my work. Whilst studying for my BA, I discovered Joseph Beuys and his theory of Social Sculpture and realised I could bring all the threads of my creative life together into one social art project. I created the Future Youth Project (FYP) which, to this day, takes volunteers on board our bus, on physical and emotional journeys across Europe, most often to Ukraine to participate in our project which supports 47 disabled men in a state-run institution there. I decided to support this group of men partly because when I met them I found a kind of joy in their company I had never felt before and also because I knew that not many other charities would be able to support them. For 10 years FYP has continued to make these journeys, usually to Ukraine but sometimes elsewhere, with many different volunteers on board, always with the idea of making ourselves feel better whilst helping others – a win-win situation.
The FYP bouncy castle installation piece Laughter Aid - an inexhaustible form of aid created for a journey across West Africa - is momentarily taking a break and is on display in the Saatchi Gallery, before going back on the road to Ukraine and other places next year.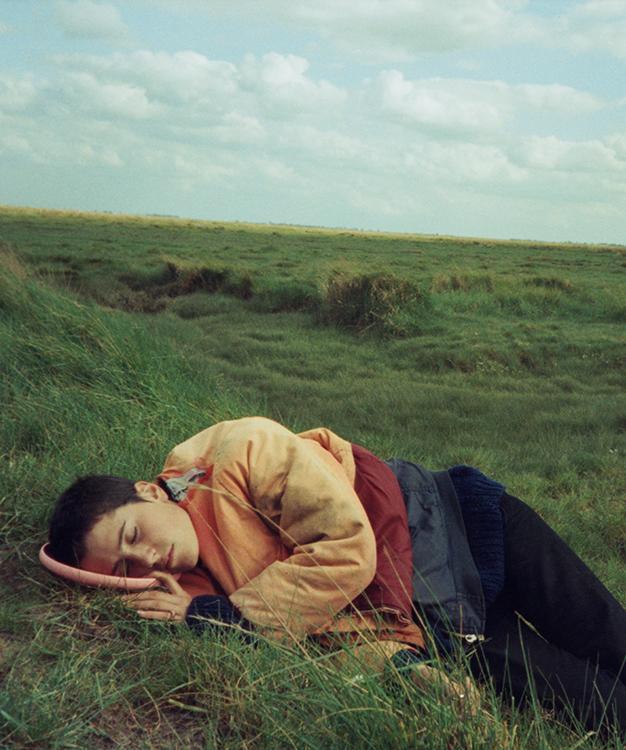 How did you become involved in the Sweet Harmony exhibition?
Philly Adams, one of the curators of the exhibition and director of the gallery, has been a supporter of my work for years and we both saw this as a great opportunity to work together on a whole room representing the headspace of a raver. We decided to not only show work from my books, No System (Steidl, 1999), Future Fantasy (Ditto, 2017) and Deuce and a Quarter (Idea, 2018) but also to show the new installation piece A Life of Subversive Joy, which spans a 23m long wall at the gallery.