Interview
At Home With
Vicki Murdoch
The Silken Favours founder invites us to explore a haven of colour-soaked prints and vintage crockery
Shop now
Aberdeen-born, London-based founder of Silken Favours Vicki Murdoch is unapologetically maximalist – her kaleidoscopic designs fueled by flying pigs, unicorns, fruits and playful interpretations of nature. After studying Textiles at Chelsea School of Art, Murdoch launched her brand exclusively at Liberty – blowing our buying team away in 2011's Open Call for young designers. Starting out with a line of scarves, Murdoch has now expanded to beautifully trippy cushions - bringing her colour-soaked prints into the interior domain. When it comes to her own home, Murdoch's space is serene, punctuated by trademark pops of pattern and colour. We stopped by to get some inspiration.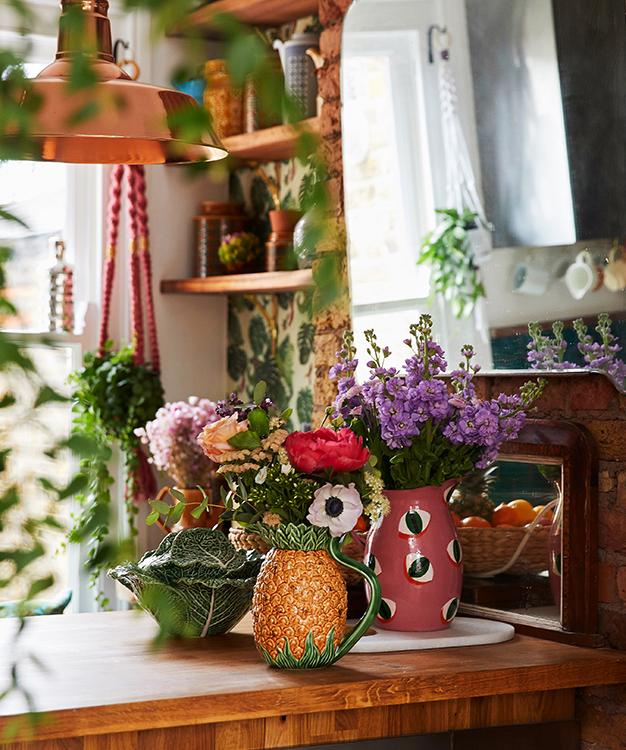 How did Silken Favours come to fruition?
I've always been a big fan of gifting personal presents to loved ones, like mix tapes and hand-drawn cards. Whilst studying textiles at Chelsea College I started to combine the idea of making personal bespoke gifts with my love of silk scarves. I made a bespoke scarf for my parents with all the birds that visited them in their garden in Scotland and it made them cry. My first collection stemmed from that bird scarf and I created more designs that I hoped would evoke that same feeling.

I saw that Liberty had an Open Call for young designers and I put all my energy into creating a collection that I hoped they would love. I was lucky that Silken Favours was selected and launched exclusively with Liberty in 2011. I had absolutely no idea about running a brand or being a business woman and I had no investment, so I've learnt along the way and grown it organically which has allowed me to learn and grow with it. It's really been a dream come true, being able to run the company now, especially to work around being a mother and make a living from something I created and love.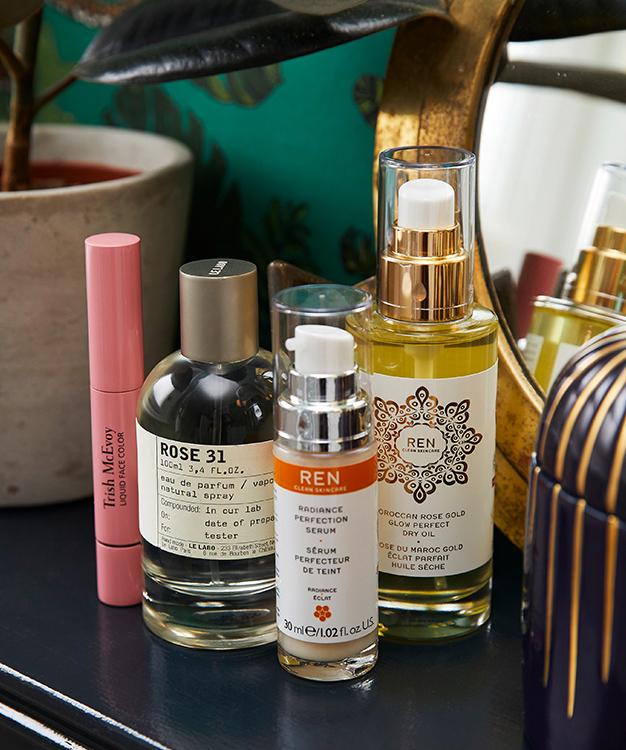 Can you tell us about your creative background?
I have always had a love for illustration, print and fine detail. Growing up in Scotland I had an enormous stamp collection and would spend hours in awe of the delicate micro-detail. I also started a hedgehog club whose members included my mum dad and siblings, so drew a hell of a lot of hedgehogs for that. I was a really cool child. Haha. Years later at art School, I still drew hedgehogs but also branched out into anything inspired by nature. Basically drawing what I loved.

For my final degree piece, I designed and filled the interior of a caravan with my print designs of cats. It was called the 'Catavan'. After two glorious summers of kitty love at a bunch of British festivals it was sadly stolen.
What pursued you to work with silk?
I started the brand with a collection of silk scarves, the luxurious delicate feel of silk and the vibrancy of colour that you can achieve has made me keep using it again and again, plus my brand name now makes me think my customers might feel cheated if it was anything else.
Where do you seek inspiration for your designs?
Travel, nature, film, books, Kew Gardens and lots of art galleries, the V&A is my forever favourite place - I could spend days in there. I recently spotted this amazing mosaic 'Tigress Lying Below Rocks' by the British artist George Stubbs and I couldn't stop staring at it. It's the finest mosaic you've ever seen and made up of so many teeny tiny parts.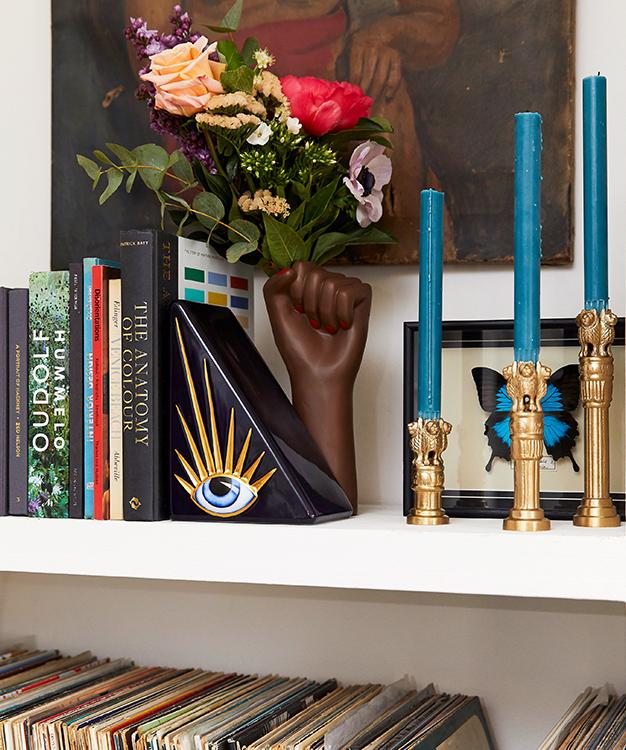 "In the summer, my absolute favourite thing to do is find a wee shady spot on the grass and just draw for hours."
Can you tell us about your creative process?
Once I've got a theme or story in mind for a collection or project I start by compiling lots of imagery and then begin the drawing process. I use a fine black pen and draw each component by hand onto paper, then scan each drawing, colour and design the composition on Adobe Illustrator. In the summer, my absolute favourite thing to do is find a wee shady spot on the grass and just draw for hours.
How long have you lived in this house?
Two years.
What makes it home?
My boyfriend, daughter and all our silly things.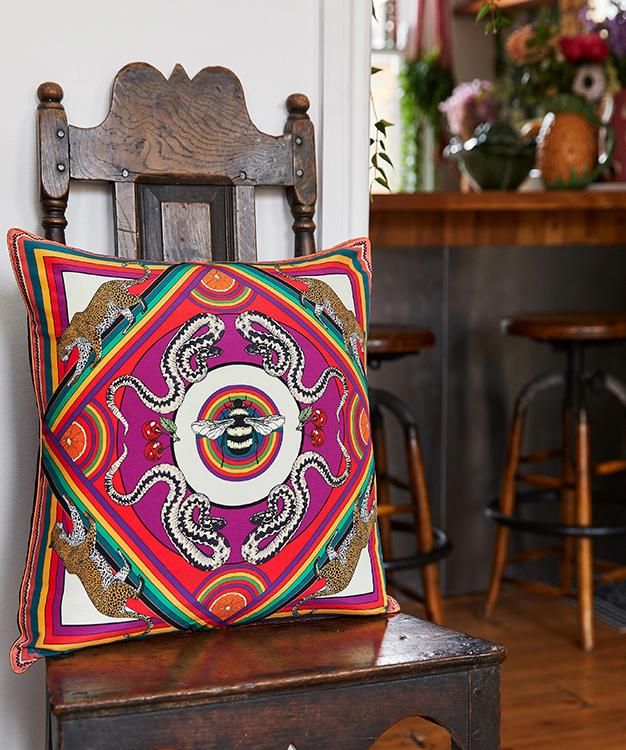 How did you go about decorating each room?
Quickly, as we moved in when I was heavily pregnant. Since having Joni decorating has been a lot slower, we are only now starting to feel more settled in our home.
How would you describe its aesthetic?
Cosy with lots of personal objects that all have a story to tell. Maximalism with print on print. I've had to compromise somewhat…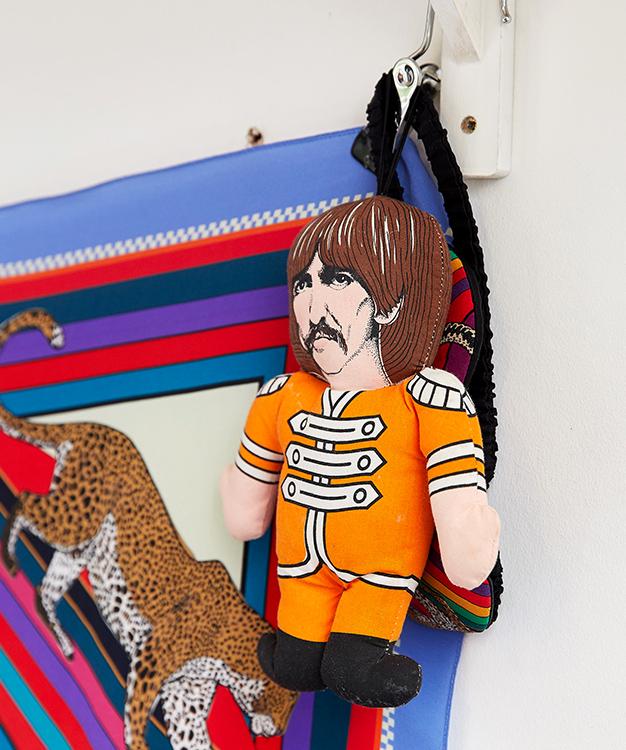 Does this sit back to your designs?
Definitely, I really enjoy creating a space, moving pictures and objects around to make a pleasing to the eye composition - playing will colour and texture, which is basically how I design.
What are your most treasured possessions?
My George Harrison toy is up there. I've had him since I was nine and Joni now loves him, which makes me very happy. I also have an ever-growing collection of brown crockery, some delightful vintage Wedgewood calendar plates and my grandmas charm bracelet.
Which is your favourite room in the house?
The living room – it's where we spend most of our time. When we moved in we made a large opening from our kitchen, giving us lots more natural light and energetic space for Joni to roam.
Where do you look for interior inspiration?
Other friends' homes, Cabana magazine is beautiful and of course the addictive world of Instagram. Lots of my wonderful customers share images of their homes with my cushions and that always makes me feel warm, fuzzy and inspired to design more.