Interview
Introducing
KASSL Editions
Co-founder Ilse Cornelissens shares the outerwear collective's mission
Shop KASSL Editions
KASSL Editions understands the power of the right coat – and the search for the outerwear ideal is one we've all been through. Driven by a collective of fashion industry greats, and the expert manufacturer who dresses Germany's fire service, the Amsterdam-based brand is channelling its energy into just this. Here, co-founder Ilse Cornelissens opens up a singular fashion story, inspired by one great vintage fisherman's coat and built to withstand a lifetime of uncertain weather.
How did KASSL Editions come about?
KASSL is a collaborative of people in the fashion world. Bart found the original fisherman coat through a friend of his. Given his job as a fashion agent, he had known myself and Tim – owners of Graanmarkt13 in Antwerp – for some time. Between us, there was the willingness to start a project together, and the old fisherman coat stepped in as the right opportunity. Charlotte joined as right hand of Bart, and Camille – designer – I knew for her talent from the brand Extreme Cashmere. The aesthetic of Gijsje, former fashion editor at Vogue NL, made her the right art director for the project. Bart and I loved that one single coat was bringing together the best creative team from different sectors of the fashion world, all willing to start the journey of a new project.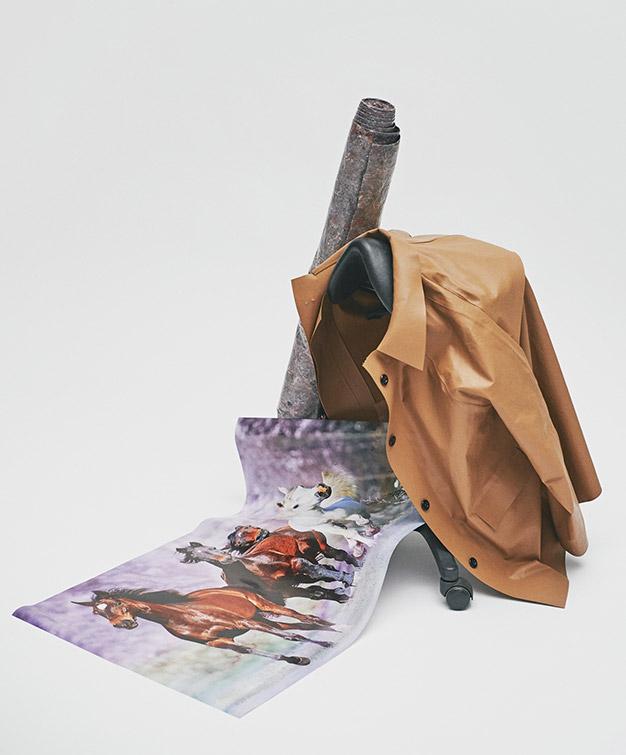 Why did you choose the coat as your core focus?
That's easy: it all started from the coat. We fell in love with the boxy shape of this old fisherman coat; its simple cut, the cleanliness of a technical item, and the tape keeping its parts together looked like a kid's drawing trying to tell a story. From this story, KASSL started, not as a fashion brand but as a project. Everything KASSL has become grew very organically from the way of thinking of its creatives. It is very radical to focus on one coat only, but this is what we all liked about it.
How does working as a collective affect your approach?
It surely makes it more interesting because there is never just one point of view directing the brand. Although we share the same aesthetic, we merge Camille's intuitive fashion designer approach, my more commercial one, and Bart's fashion agent input. Businesswise, it is interesting to work like this as it allows us to learn from each other's fields of expertise.
What does it mean to work with Josef Koch?
Having a close relationship and open communication with your factory is very nice. Bart knew Josef since he lived in Germany and was already acquainted with his technical expertise. It is a huge creative input for us to see how Josef, who had always been far from fashion, has approached our brand, his suggestions and edits to our items. It is an opportunity that opens up to challenges and knowledge spill overs from different fields.
"Bart and I loved that one single coat was bringing together the best creative team from different sectors of the fashion world"
Who is the KASSL woman?
Anyone. Any woman can be the KASSL woman. When we first started showing KASSL, we could very clearly see ladies putting on our coats and immediately getting a certain attitude from it. By wearing the KASSL coat, they all played with their style, they tried to shape it accordingly. We strongly encourage the coat to become one with you when you wear it: it must not be the coat wearing you, but the opposite. Although it is stiff and boxy with a very defined line, anyone can play with it, roll it, belt it, so that it becomes an addition to your personality.
What key features underpin your designs?
Since the very beginning we have worked to create something genderless, durable and real. With further collection developments, we have also achieved modularity, uniformity and technicality – all key features to our brand.
Where do you find inspiration?
We all find inspiration in real life: as we are scattered around, and travel a lot, we look around the environments we find ourselves in. Camille especially, finds her main inspiration by walking in the streets. She loves capturing pictures of people and materials she comes across. She is intrigued by the way people wear items and, most importantly, how they feel wearing them.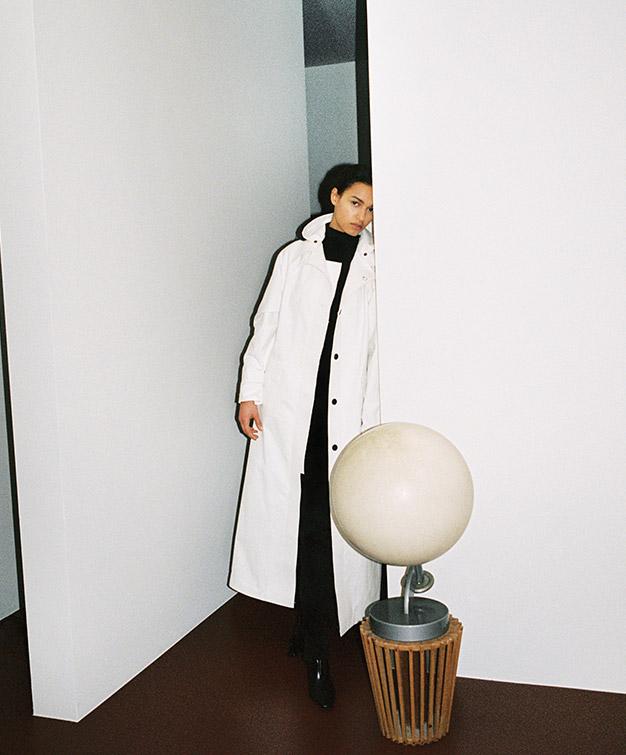 How has Amsterdam shaped the brand?
Amsterdam is a great base for us, as we all travel around the world at the same time but to different places. Amsterdam, which is so easy to reach from Germany, Belgium and France, makes it easy for all of us to connect and meet.
Why do you think utility is having such a moment in fashion?
People want to feel good these days, and the way to do so is to focus on comforts that are feasible. With all that is happening, not just in fashion, the need for utility has become the need for turning to something smaller that can be handled with some comfort. We all need to realise that it is better to buy one good piece of fashion, which you can rely on, than buy more and waste more. This is the way to change the consumption habits that characterise this time, keeping the wider environmental cause in mind and making a difference as fashion consumers.
Are there challenges to existing as a single-product brand?
By having a single-product brand we are not necessarily limiting ourselves. For instance, we are now expanding our markets with bags. However, when we expand, we do so organically from the original coat. We may find inspiration in its cut, or a way it was worn or folded. From something that easy, we develop new visions.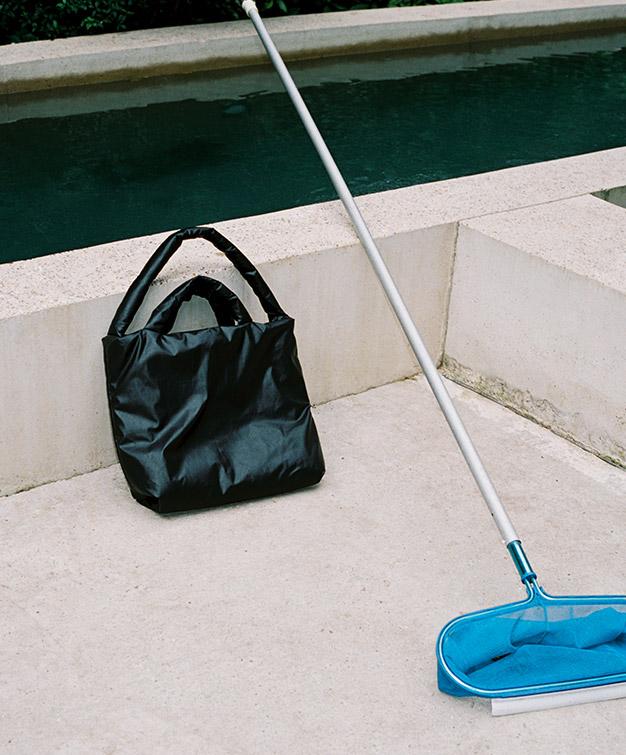 What influenced you to expand into bags?
We expanded organically: Camille was playing with waste fabrics from one of our coats when she padded some and put together the shape our bags now have. The whole team was immediately attracted to that fluffy image and idea, and this was enough for the bags to happen. It is a very good opportunity for KASSL to enter a new market because of the good price and to reach a wider public.
Why is sustainability important to you as a brand?
One of the reasons we are focusing on coats is to stimulate people to buy less: you invest in a well-made, durable piece that we want you to wear very often. Not just wear it but fully live it, play with it by adding accessories and adding to your looks. With this modularity of the coats and our accessories in mind, we aim to find sustainable solutions in all that concerns KASSL: fabrics, manufacture, design, hangtags, all the rest. Having a close connection to the people you work with means you can oversee each step of the process and make sure the best conditions for your working environment are met.
"We all need to realise that it is better to buy one good piece of fashion, which you can rely on, than buy more and waste more"
What most concerns you about the fashion industry today?
Fastness and retail. The first comes from an eagerness for newness, typical of the social media era, that prevents pieces growing old and having a life of their own. This is not only damaging to the environment but to designers and manufacturers who see their work being constantly devaluated. Indeed, sales are accountable for this: they pressure the psychological side of consumers, who put temporary value on items they buy. Yet, I am positive we are overcoming this fastness, and we are finally starting to use social media as a tool to raise awareness towards bigger problems: I see more and more consumers turning around their fashion habits for more sustainable ways of buying.
What do you predict for the future of fashion?
There is going to be a wave of comfort and of utility rather than of fast fashion. This vision also fits with the KASSL idea, the one where people will go for quality rather than quantity. With this turnaround of fashion consumers, the fashion system will have no choice but to adapt itself.