Interview
In the Studio
Colville
We visit the brand's stylish Milan studio, and talk new beginnings with its founders
Shop women's
What do you get when you bring two ex-Marni designers together with a former Vogue fashion director? The answer is Colville: a fresh, eclectic label intent on reinventing runway for a sustainably-conscious world. Having met at the aforementioned Italian fashion house, Kristin Forss, Molly Molloy and Lucinda Chambers decided to form their own creative collective, to realise a shared vision of an energetic new brand "totally at ease with itself". As Colville lands exclusively in-store, we speak to the team at their striking Milan headquarters to get the inside scoop.
Where did the three of you meet?
M: We all met 15 years ago at Marni. Lucinda and I worked on the on the womenswear collection together. We launched Colville in 2018.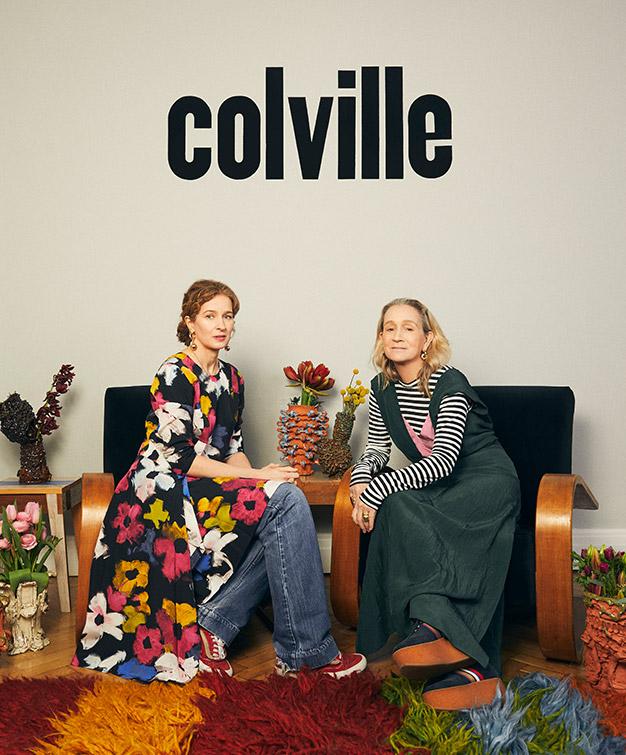 How did the brand come to fruition?
M: We knew we wanted to continue our working relationships when we left Marni. We couldn't imagine not continuing our creative collaboration, it made sense and then suddenly one day we are doing it on our own and it's growing!

L: After we all left Marni, Kris and Molly decided to start and they rung me saying, "there's no where I want to shop now so let's start something of our own" - and they asked if I wanted to join.
What's in the name?
M: Colville came from the terrace in London's Notting Hill. David Hockney used to hang out there in the '70s, we loved the connotations it holds. We also loved the way the name looked and that it didn't sound either masculine or feminine.
What's your ethos?
L: I think there is a very strong design ethos. Colville is about new designs, new energy but at the same time being very at ease with itself and how different women can dress, it's about a story of people. Collaboration, a collective of likeminded creators all coming together. This is very important for Colville. To shout out about our jewellery, our shoes, our bags, the stories we want to tell. It's not about one person but about people coming together and sharing their vision and creativity.
Where's your studio?
M: Our studio is in the historic Palazzo Berri-Meregalli. It was built in 1913 in Milan, it's architecture is incredibly eclectic - a mix of gothic and Liberty.
"We love ceramics as much as cloth, paintings as much as shoes…. there doesn't seem to be any divide about what we want to make and what we want to create."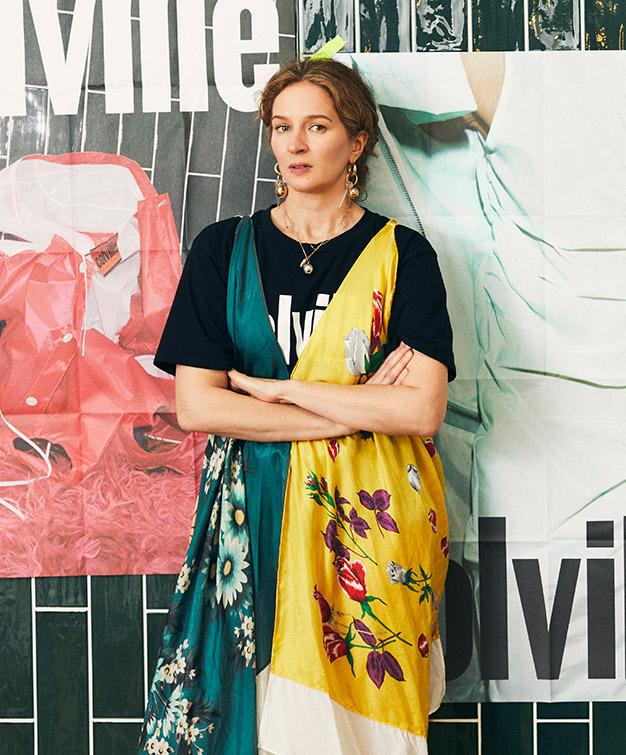 How would you describe the space?
M: Our space is a mix of all our cultures and tastes and it was always our intention to design everything in our working space. We have worked with local craftspeople and all the rugs have been made for us by women in Turkey, keeping their historic craft alive.

L: As much as possible, it's not like a work space, it's more like someone's fabulous apartment where lots of stuff happens!
How much time do you spend here?
M: Lucinda comes over every four weeks and I'm in the office four days a week.
Are you influenced by your environment?
M: Absolutely, that's why we wanted to create things that were specifically for the Berri-Meregalli, it's really important to us our working environment for ourselves and our team. We want to be inspired by our surroundings…

L: I think one is always influenced by what is around you and what surrounds you. Milan is such an incredible place to live and work and then we come over to London all the time. Colville feels very fluid in that way.
Where else do you look to for inspiration?
M: We are constantly looking, anything and everything and all of us bring that inspiration to the table.

L: There's never any one way, it can be anything from a fabric to a film.
What do each of you bring to the brand?
M: It's a real collaboration but we all play to our strengths which are different things at different times. I think what's unique and unusual about Colville is that we work with friends and collaborators who are also friends, so it feels very much like a Colvllle community.
What's your starting point for a new collection?
M: We have a massive brainstorm with the whole team, everyone brings inspiration, we talk a lot about what we want to wear and obviously all the fabric research we have done helps shape the collection.
Can you tell us about your creative process?
M: We gather everything around us and after the big meeting all go away and work on different things, then we have a constant feed of ideas, then we come back together for the next brainstorm, it's very fluid.
What are your favourite materials to work with?
M: This changes all the time as fabric research is something that we are all passionate about and are interested in and is part of the Colville DNA.

L: It's interesting about materials as we love ceramics as much as cloth, paintings as much as shoes…. there doesn't seem to be any divide about what we want to make and what we want to create. Nothing is off limits, it's all about how to we live as much as what we want to wear.
"Colville never stands still. It's always evolving… we love working with other brands, other people, unexpected bringing together, that's the beauty of it."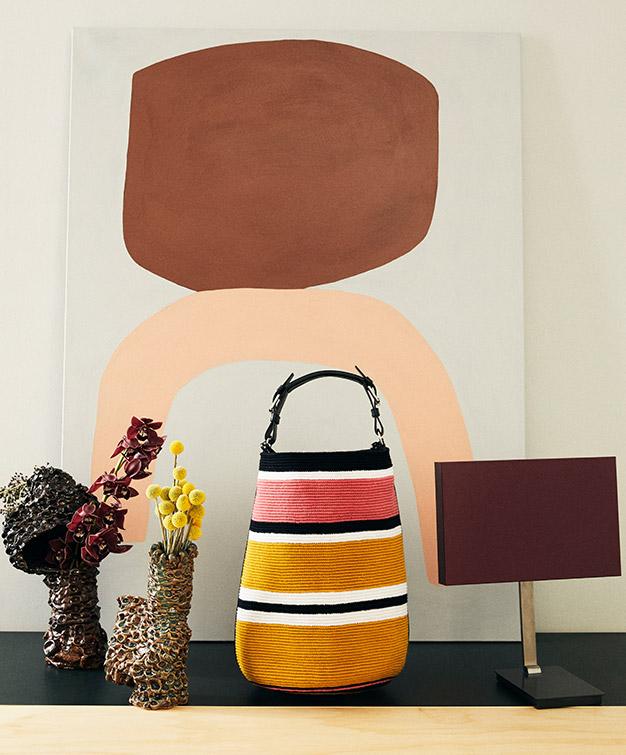 Do you have a Colville woman in your minds? Who is she?
M: Our customer is all of us, she's someone who loves clothes and design and dresses for herself ….

L: I think we all have a woman in our minds, definite and particular but not any one individual. for sure she is strong, independent knows her own mind and is slightly askew to fashion, not following trends but wanting to express herself outside them. For the joy and pleasure of it.
How do you hope she feels in your clothes?
M: We want her to feel empowered, free and to feel good and intelligent in the clothes
What's the Colville aesthetic?
L: It's beautiful and impactful but in a quietly subversive subtle way. I think Colville is unusual, not following, just carving out a place for individuality. The collections have a strength and breadth so that you can buy it in different ways, it doesn't dictate, it gives you choices, but always intelligent ones.

M: Our aesthetic is eclectic and we mix up all our skills and passions and wardrobes all in one collection so you get a vibrancy and a uniqueness, we all dress very differently from each other. What we end up with is a great mix that addresses many different women.
Does this sit back to your own?
M: Absolutely yes, we all wear the clothes and design the clothes for ourselves and like-minded women.

L: I think we all feel a part of Colville in a very visceral way. It lives inside and outside of ourselves…we often, always say "This is very Colville" and we know what we mean, it's not about any one of us in particular but has its own 3-dimensional personality that is the sum of strong parts.
How would you describe the current fashion landscape?
L: It's interesting as I think there's a lot of "fashion" but not a lot to actually wear that's built to last, I think designers have a tough time of it today, they are quite isolated, having to make huge houses work on every level, it's a lot of pressure. We feel lucky, although it's no accident, that we feel a collective. A design family.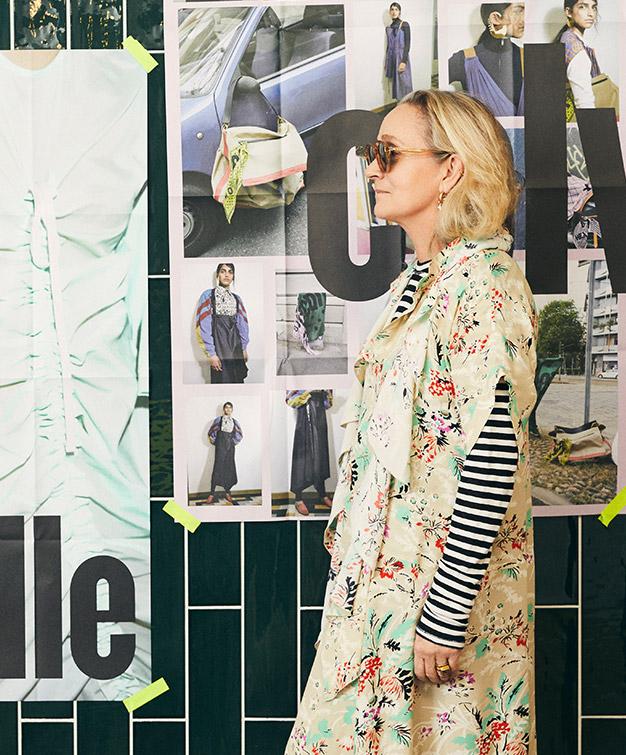 And Colville's place within it?
M: There's always room for good ideas and new design, you have to build your community. That can take time but it feels like we are hitting our stride and stronger with each collection.
Which style rules do you live by?
L: No rules, and if there are any, they should be broken, just respect and kindness. That's all.
Where do you stand on colour?
L: We all love colour, always have. It makes the world more interesting.
And clashing?
M: Yes, clash is good too, we don't do 'good taste' clothes together, there's always a bit of an edge, the grit in the oyster.
Why did you choose to be stocked at Liberty?
L: Liberty has such a great heritage, we have grown up with it. What's wonderful is that it sticks to its own aesthetic and yet moves with the times, that's a hard line to tread and Liberty does it beautifully. It knows who it is, and it knows it's customer, which is wonderful.
What's next?
L: Colville never stands still. It's always evolving, interiors and collaborations are in our sights, we love working with other brands, other people, unexpected bringing together, that's the beauty of it.