Feature
Dinny Hall
For the National Portrait Gallery
Take a closer look at the exciting jewellery collaboration, inspired by Pre-Raphaelite art
Shop Dinny Hall
A Liberty mainstay since 1984, beloved British jewellery designer Dinny Hall has partnered with London's National Portrait Gallery to translate its Pre-Raphaelite Sisters exhibition, which explores the untold story of female agency in the art movement, into two contemporary new collections: Sunbeams and White Petals. The result is otherworldly, ethereal silhouettes in 22k gold vermeil, and recurring motifs of white petals and blossom – a modern take on the early bohemian movement. In addition, Hall has created six limited-edition, exclusive-to-Liberty Sunbeams designs, laced with mystical diamonds. We took five with Hall to get the full story…
"When asked to create a collection of jewellery inspired by Pre-Raphaelite art, which is so rich in embellishment and symbolism, I made the conscious decision not to be too literal."
What role did women play in the Pre-Raphaelite Movement?
The women in the pre-Raphaelite Movement were strong and creative from humble backgrounds. In many ways, they were not idealised, with their unruly (sexy) hair and thick necks. They wrote, they illustrated and they painted. Most importantly, they pioneered the idea of a muse acting a part in the Pre-Raphaelite movement.
How did you translate the aesthetic into wearable designs for today's woman?
I saw in the paintings the birth of something truly modern and bohemian, so I have tried to take that essence and make the jewellery positively 21st century. I had in mind that should one of the women of the Pre-Raphaelite movement be alive today, she would be contemporary in every way.
Is there a feeling you hope to evoke from the wearer?
Like a Goddess - Hera or Aphrodite.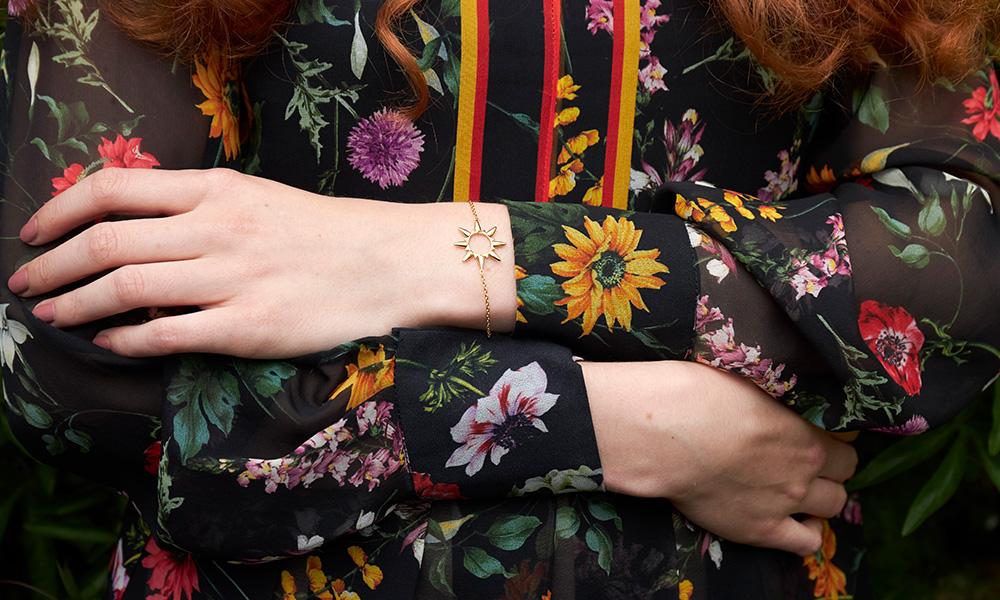 How and why did you select the materials?
White petals, which were a recurring theme in the paintings, are translated as calm and cool silver, while mother of pearl represents the moon. In Sunbeams, gold frames are hot, gold and sensuous like the masses of hair.
Can you tell us about the exclusive-to-Liberty, limited-edition collection?
Arguably, in jewellery, there's nothing more pleasing than the combination of gold and diamonds, which is why the limited-edition pieces designed exclusively for Liberty are so special for me. The fact that the Pre-Raphaelites paved the way for the Arts and Crafts Movement that is intrinsic to Liberty heritage make the collection a perfect fit.