Feature
On Home Workouts:
Charli Cohen
Activewear's "polite anarchist" reveals how to establish an at-home routine
Shop Charli Cohen
Seeing herself as the Bruce Wayne of the fashion industry, London-based designer Charli Cohen is shaking up the activewear space with ethically-made, all-inclusive designs that bridge the gap between street and performance wear. Here she talks founding her brand, and shows us how to establish an at-home routine.
Take us back to the beginning… how did your brand come to fruition?
It sounds clichéd but I honestly always knew this was what I was going to do! When I launched Charli Cohen out of university, I had two primary motivations that formed the foundation of CC:

1. The type of product that I wanted to buy and wear wasn't available and I was determined to make it myself
2. I was really uncomfortable with the way the fashion industry operated and wanted to be part of setting a new precedent for a better industry
What's your background?
When I was 13, I sailed from the UK to New Zealand, and basically spent 18 months on a boat, sketching the clothes I wanted to wear. In between the sketching, I was also lucky enough to experience many different countries and many different cultures - an endless source of inspiration. Once I arrived, I enrolled myself in night school for sewing and pattern cutting, and launched my first brand, which I ran for four years before beginning my formal fashion training back in London.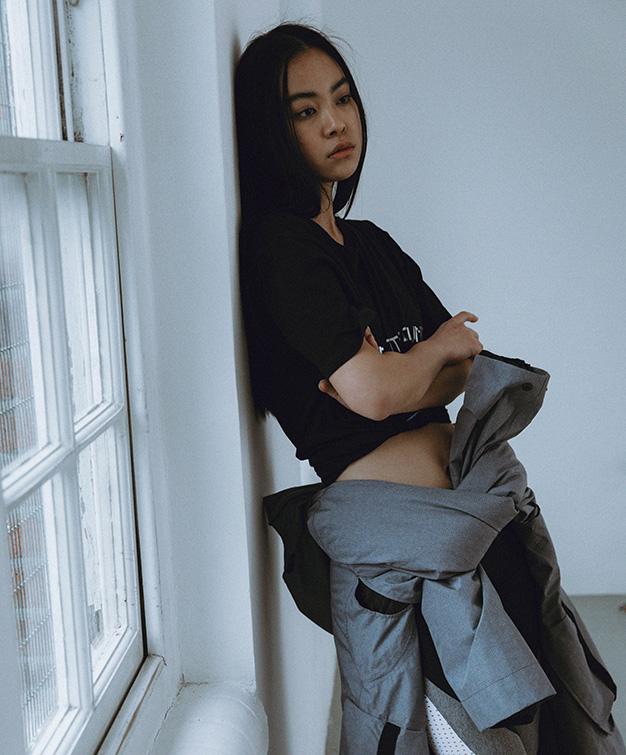 Tell us about your brand ethos…
I see Charli Cohen as the Bruce Wayne of the fashion industry. We're challenging a broken system, we care a LOT, we have a very dry sense of humour, and dark superhero is our signature aesthetic.
Who makes up your team?
We are a small team of four. Ben is my boyfriend of six years and has been a huge part of the whole CC journey. Iesha and Danielle both interned for me early on in the business and they were so brilliant I knew I had to grow the business enough to be able to employ them once they graduated. We also have an extended team of amazing creatives that we work with on shoots.
What materials do you work with and why?
We work with technical performance fabrics, primarily made from recycled ocean plastics. We also upcycle military utility fabrics. It's important to me that everything has a really nice drape and hand feel, rather than being too traditionally "sport" - which is something our mills specialise in - but I also want it to benefit from all the technical properties of performancewear, because why wouldn't you have both if you could?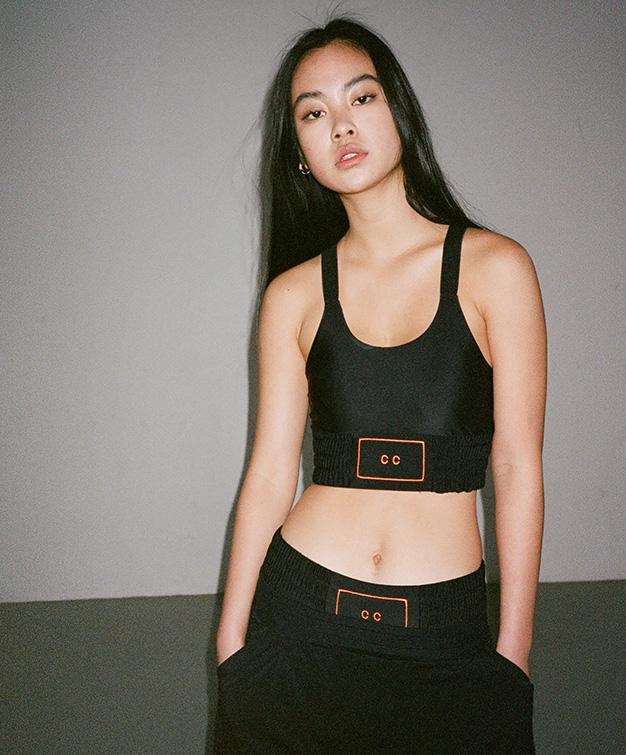 "There's so much societal conditioning to undo, [body confidence is] not something that happens overnight. Be a little kinder to yourself each day in any small way you can."
What's your signature product?
Can I pick two? Because I'd have to say both our Laser Legging and our Saber Pant. Both have been core styles in the collection for a really long time, are super versatile and make a quiet statement - the Laser Legging with its texture block panelling and the Saber Pant with its silhouette. And both styles look great on everyone, no matter what their body shape.
How do you ensure ethical production?
Months and months of research and frequent factory visits, on top of the certifications and audits the factories need to have. The factories we work with are fantastic but it's taken really intensive time, effort and cost on our side to put our ethical supply chain together. It's so important to us.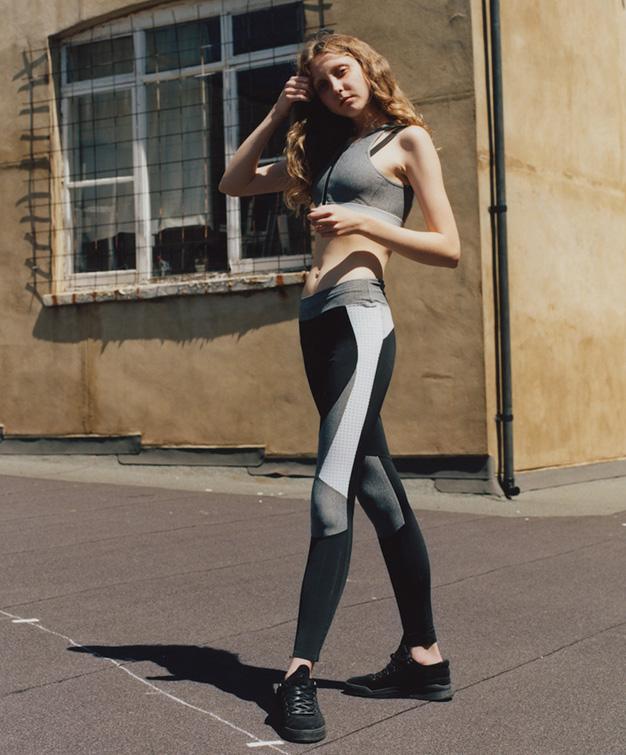 What are your daily rituals?
It's important for me to have a clear couple of hours in the morning to do whatever I need to do for myself (and walk the dogs!) before taking any meetings or calls. This gets me in a nice, clear headspace for the day ahead.
And your workout style?
I started lifting weights in my mid-teens and never looked back.
How do you motivate yourself?
Once I'm in a routine, it's quite easy to stay motivated - getting into the routine is the hard part. I find trying to look at it one day and one step at a time really helps, otherwise the end goal becomes really overwhelming and stressful.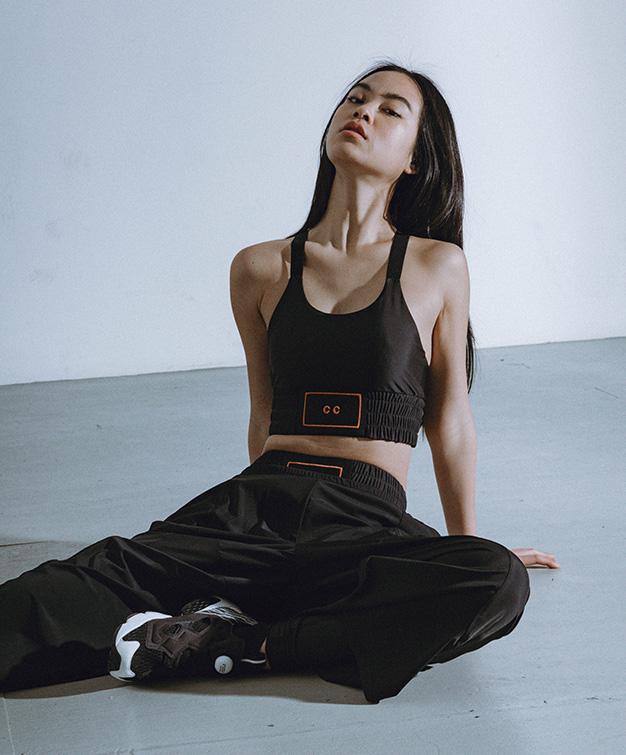 Body confidence – what's the secret?
I wish I knew! But honestly, I don't think there's a secret - it's a process. There's so much societal conditioning to undo, it's not something that happens overnight. Be a little kinder to yourself each day in any small way you can, until the positive thoughts and self-care become your norm.
What advice would you give to someone looking to establish a routine?
Break it down into manageable steps and be kind to yourself. Consistency is the most important thing - an off day only becomes an issue if you allow it to derail you. Accept it, don't beat yourself up, get back on track the next day.
Cohen's at home routine
First off, make sure you warm up and stretch. Then...

1. The humble push up: if you're not feeling ready to go straight to the classic push up, try wall push ups instead to get your upper body working. And if you're finding bodyweight push ups too easy, pop a couple of books into a backpack and give it another go!
2. Squats: another classic. Try the backpack trick above to add more resistance, or if you're feeling brave, try a single leg pistol squat. Maybe just over a padded surface if it's your first time.
3. Rows: using a sturdy chair or table, lie underneath, grip the sides of the table or chair seat and pull yourself up. The straighter your legs are, the harder it is. Conversely, bend your knees to make it easier.
4. Bridges: this is one of the easiest moves to modify and add resistance, make them harder by elevating your feet on a chair, doing them single legged or holding a nice weighty book on your lap. Take some nice long and give yourself a pat on the back!

Take some nice long breaths and give yourself a pat on the back!