Interview
Andrea Rembeck
Tutu du Monde
The founder of the original tutu brand tells all, from French Ballet inspiration to cherishing childhood moments
Shop Tutu du Monde
Famed for its enchanting party pieces, Andrea Rembeck's occasionwear line, Tutu du Monde comprises wistfully embellished, old-world costumes and party dresses that celebrate the freedom of childhood and the desire to dream. Using her couturier eye, Rembeck's pieces are gracefully garlanded with wispy feathers, twirl-ready tulle and crystal beads that have been stitched by skilled artisans in India. Here, Rembeck shares her own childhood memories and dreamlike design inspiration.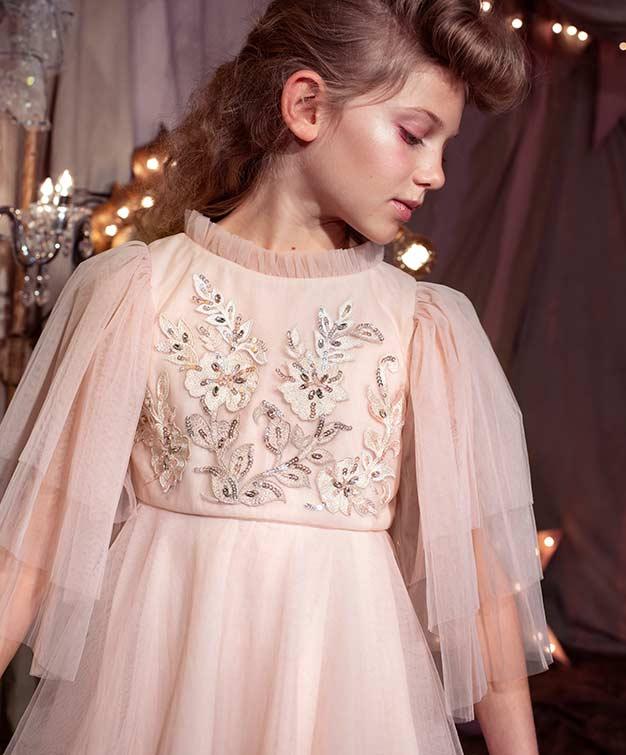 What encouraged you to start up Tutu du Monde?
Tutu du Monde began with my quest for a 'ballerina dress' for my own little daughter – a then four-year-old fussy dresser! I found current market offerings uninspiring, mass-produced and crafted from pink polyester. So, drawing instinctively on my own design aesthetic and experience, I decided to create my own tutus. Thus, Tutu du Monde was born and formally launched in 2009. What I initially considered a 'side-project' soon took over my life, and we have been growing and creating ever since!
What is the meaning behind the brand's name?
My original inspiration was the French Ballet and their vintage costumes to be precise, hence the name which came to me during a run along Sydney's famous Bondi Beach.
Every Tutu du Monde dress is done by hand, one by one, which can often take a whole day. There is nothing fast or mass-produced about the manufacture of our garments.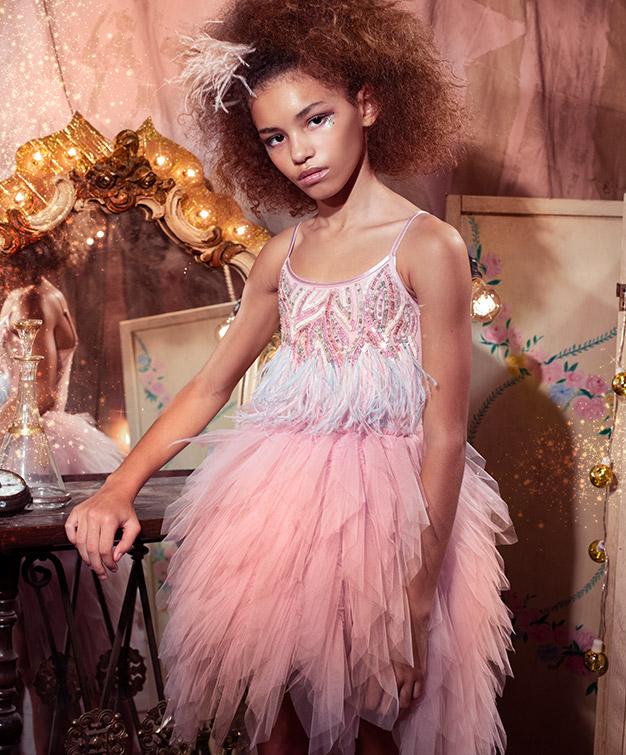 Do you have any special childhood memories that have influenced Tutu du Monde's style in any way?
I think I'm living out the dreams of my younger self. When I was a little girl I would spend countless hours in my grandmother's attic dressing up in her beautiful beaded gowns. Childhood is fleeting, and I love the idea of celebrating this short period where imaginations can run wild, and little girls can dream. I think, as a brand, we speak to like-minded stylish mothers who want something unique and beautiful for their daughters – something they wished they could have had when they were little themselves.
Tutu du Monde's clothing has a playful, dream-like quality that makes its pieces perfect for parties. Where do you draw inspiration from?
Inspiration often comes from travel, and exploring different places, colours and moods. But it also comes from the abstract; movies, books and exhibitions. It's often a magical storyline that can set me off on a journey and then we dream up campaigns to bring to life. Our latest collection was inspired by the wonders of the old-world circus, which has always held my fascination... the glamour and dust of the big top and the magic of the performers.
How would you describe the identity of the brand?
Genuine, whimsical and innovative. We were the first and original tutu brand. Our garments are created to last, with embellishments made by the best artisans in the world.
Has your daughter's daydreams or fantasies been the inspiration behind any pieces?
Absolutely, that's how it all started after all! She wanted to be a fairy princess and a dainty ballerina and float around in her whimsical dresses… In the early years, she had a lot of input into the designs but now that she's a teenager, sadly not so much. However, she has become very interested in the business side and helps in the office in her holidays.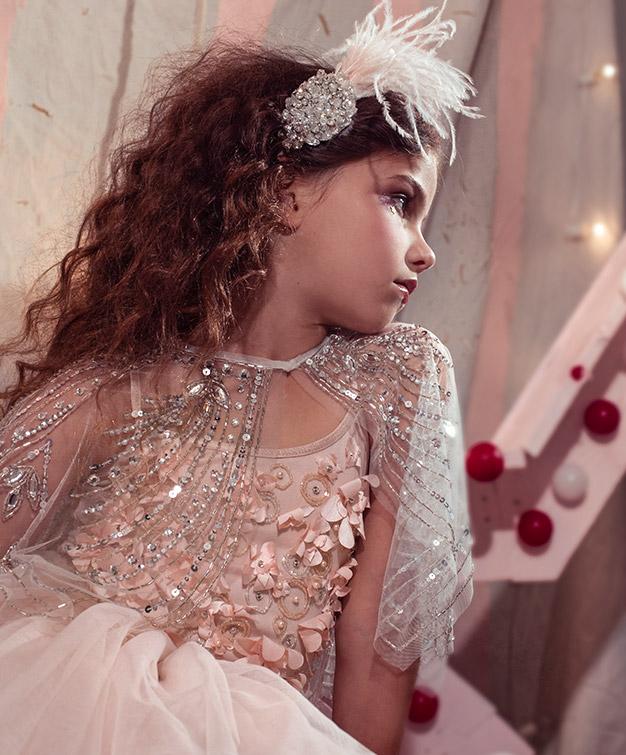 Tutu du Monde's clothing is unique in the sense that it encourages children to dream and positively express themselves. Why is this important to you?
I grew up more old-fashioned (for which I'm forever grateful). The lack of constant distraction and entertainment inspired me to draw, read, role play with my friends in make-believe worlds and later, begin sewing my own outfits. I wanted to bring a piece of that magic to young girls to enrich their childhoods. It is such a fleeting moment and should be cherished as such.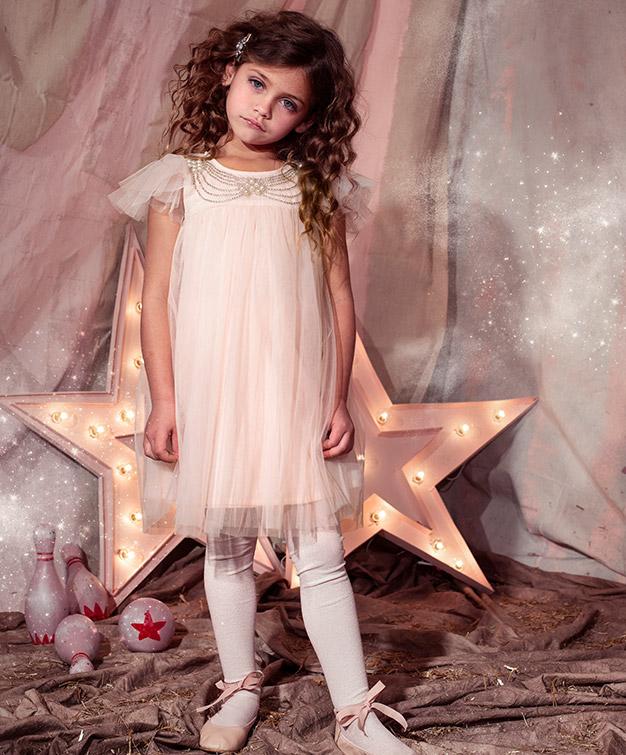 In a world filled with games and social media, how do you encourage creativity and nurture the innocence of childhood with your own daughter?
We are big readers in our family, so from an early age, my daughter loved books and still does. When her screen time cuts off, she reads books or writes stories. Having said that, there are still fierce negotiations about how much screen time is enough.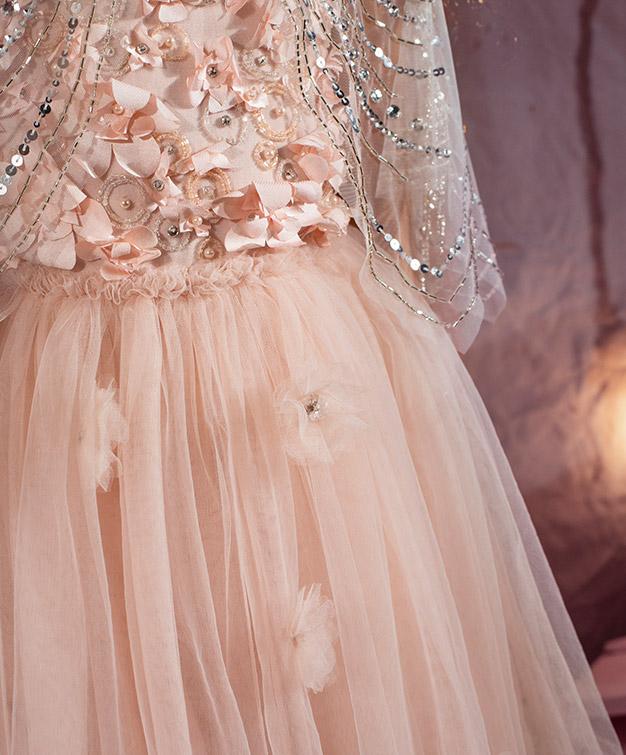 As a designer, could you tell us more about the creative process and how you bring each piece to life?
Our design team works on a concept depending on the inspiration for a particular collection, and we then work in collaboration with our workshops in India to bring our sketches to life. India has the best artisans in the world, and the beading on every Tutu du Monde dress is done by hand, one by one, which can often take a whole day. There is nothing fast or mass-produced about the manufacture of our garments.
What are your favourite pieces from the AW19 collection?
I love the whole collection, but standouts are probably the darker coloured pieces. Floating Feathers Tutu Dress for its inky colour and ostrich feathers, as well as the very fun Confetti Tutu Dress which comes in a blush colourway and is sprinkled with bright mauve sequins that look like a confetti explosion. A new style (and another favourite) is the beautiful silk velvet cape with beaded shoulder features.