Feature
The Art of Wallpaper
House of Hackney
The cult East London interiors expert guides us to perfectly papered walls
Shop House of Hackney
Wallpaper is undoubtedly an inspired way to add maximalist flair to your home – but hanging it yourself can be a daunting prospect. To save you calling in the decorators, we've called in the help of House of Hackney founders Frieda Gormley and Javvy M Royle, who give us a step-by-step guide to walls so perfect, they rival those in the couple's own east London townhouse.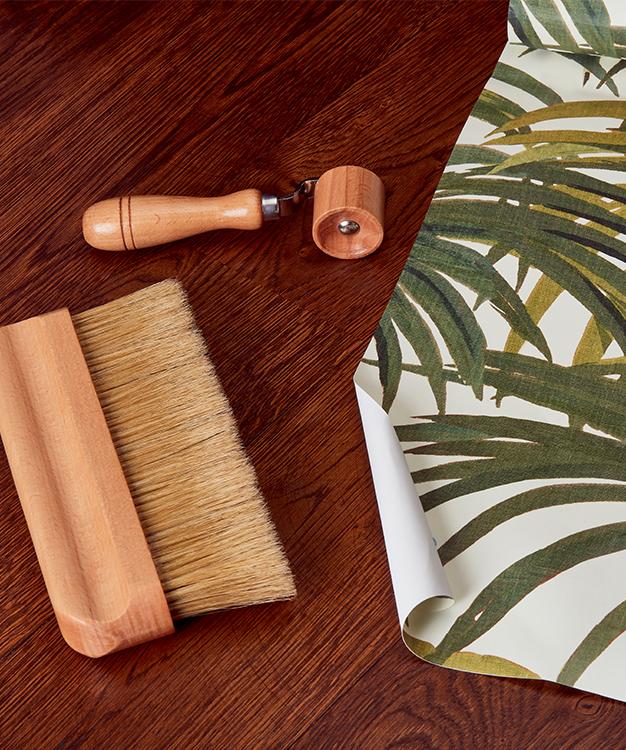 Which rooms are House of Hackney wallpapers designed for?
Our wallpaper is designed for each and every room in the home. It's made from FSC-certified wood pulp with added textile fibres to make it strong and stable, so it won't wander off the walls – even in humid areas like the bathroom. In our House, we see wallpaper as an opportunity to imbue a space with beauty, humour and personality; our whole ethos is to rebel against living in a sterile white box and immerse yourself in the magic of print and colour. Wallpaper has the power to completely transform a room – so be bold and go for all four walls.
Which designs do you have in your house?
It was very instinctual – we just chose the prints that we love and gravitate towards. So, for the family room, we went with MAMOUNIA's Moroccan-inspired stripes across the walls then coated the ceiling in the painterly wildflowers of ARTEMIS, both in a palette of rich reds to infuse the space with energy and warmth. We also used MAMOUNIA in burgundy and teal in the kitchen and ARTEMIS again in the living room in a beautiful blush-pink – while the two motifs complement the traditional design features in each room, the colourways are unexpectedly modern. It wasn't a premeditated decision to use them as recurring themes, but they actually create nice points of continuity throughout the home.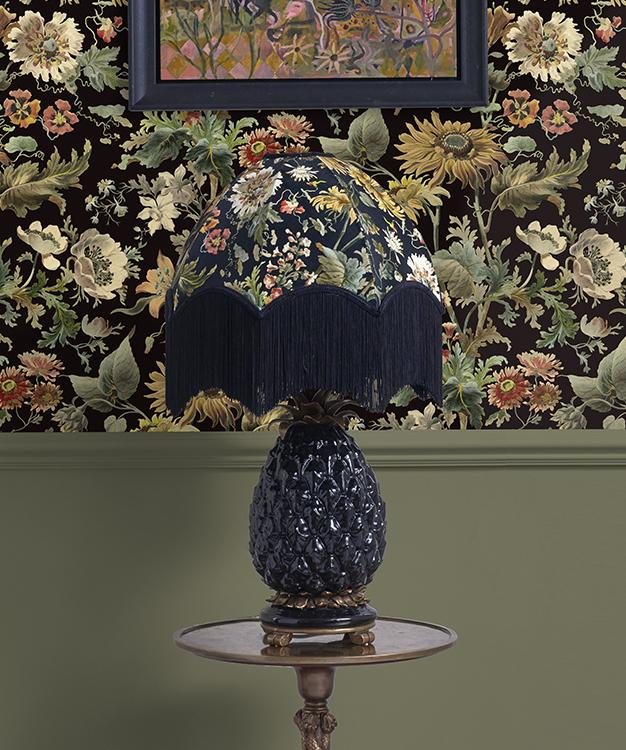 What's the best way to assess whether a design will work in a room?
The biggest misconceptions are that you should paint your walls white to make a home feel spacious and that wallpaper everywhere will make rooms feel smaller – if anything, it opens them up and creates depth by drawing you in. So, don't worry about the size of a room and instead focus on the mood you wish to convey. While stimulating, psychedelic designs work well in the living room, prints that are a little more serene – think nature-inspired motifs in tranquil colour palettes – are best for the bedroom and bathroom.
In addition to our chosen wallpaper, what other tools should we have on hand?
You'll need readymade paste (we recommend Solvite's 'Paste the Wall'), a brush, a roller and tray, a plumb line, a firm sponge, a knife and an edge cutter. Oh, and a ladder. While that sounds like a lot, our wallpaper is incredibly easy to hang – all it takes is the right tools and a little insider-know how. Simply follow along with the step-by-step guide and instructional video on our website and DIY will feel as easy as ABC.
Should we prep our walls before we start? If so, how?
Ensure that your walls are dry, even and firm before starting – this may mean scraping off any old wallpaper and sanding the walls down. If the walls are a little on the old side, we suggest applying lining paper before your chosen wallpaper– whereas if you're working on a newly plastered wall, you'll need to seal it with primer beforehand to prevent the paste from being absorbed by the plaster, which will in turn cause the paper to shrink. You should also turn the central heating off and ensure the room is well-aired during the application and drying time (otherwise, the wallpaper can shrink and leave visible gaps between the panels).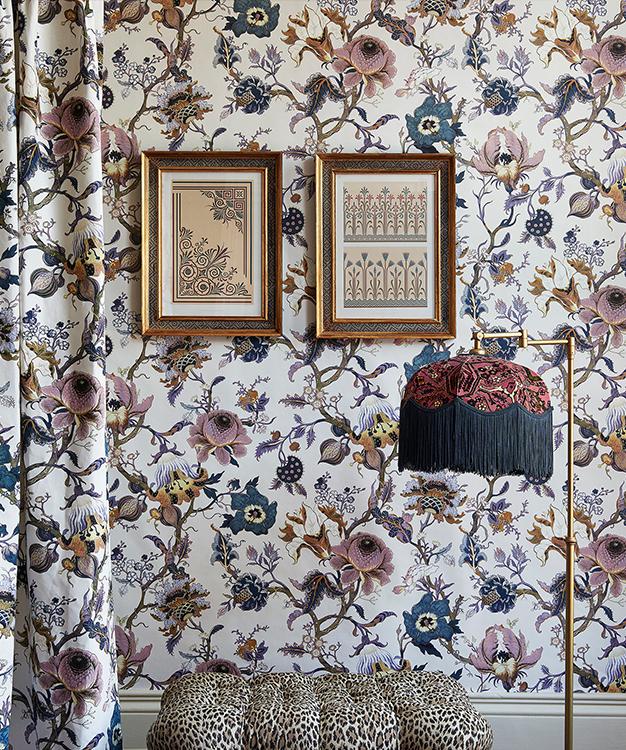 What's your advice for making sure the paper is hung straight?
Each roll of House of Hackney wallpaper is designed with four panels that seamlessly match up to create a mural effect – effectively doing all the hard work for you. So, following our step-by-step guide, mark up certain points on the walls using a plumb line and an edge cutter, then simply align the sheets one by one, working in order (each sheet is numbered #1 to #4, so you'll know which is which).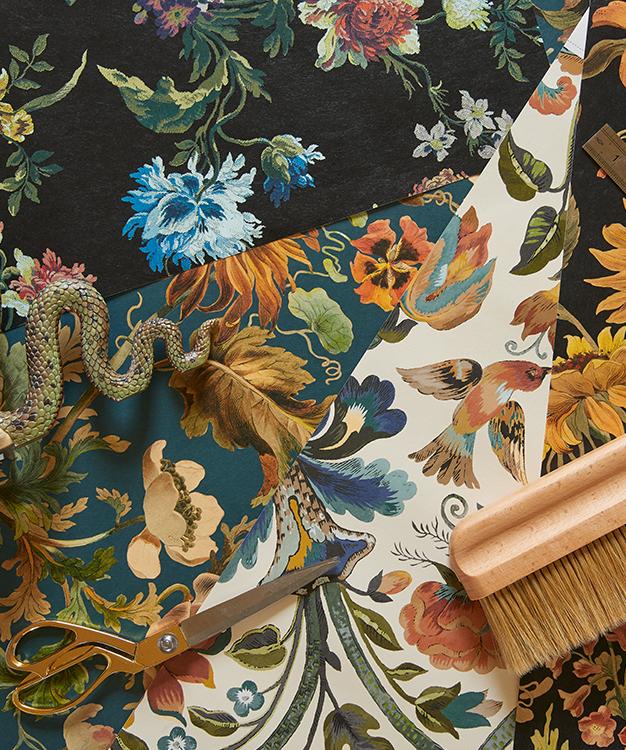 How best to avoid lumps and bumps?
First, make sure to use the paste sparingly while coating the wall – then press the wallpaper in position and smooth it down with a firm, dampened sponge (never a spatula as this could scratch the design), working in circular motions and double checking that all air bubbles have been ironed out. And, take care not to stretch the paper, as it becomes very pliable when wet with paste.
What should we do when we come to plug sockets and fittings?
For sockets and switches, start by unscrewing and removing the outer casing. Apply the sheet of wallpaper as normal and let it hang over the socket area. Next, use a knife to slice a cross-shaped opening, diagonally from corner to corner across the socket area, then cut away the excess. Smooth the paper down with a brush or sponge before reattaching the front cover of the socket.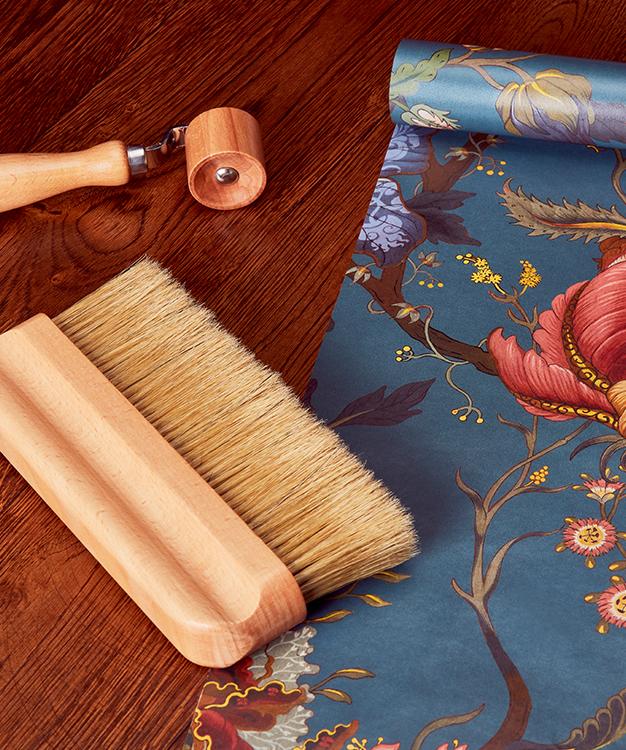 Any additional tips?
Don't be afraid of using wallpaper in unconventional ways. We really love wallpapering the ceiling, for example – the effect is dramatic and utterly mesmerising. You could also try hanging your favourite artwork on top of your chosen wallpaper. An exquisite print can feel like art all by itself, but combined with a painting or photographs it really anchors a room and creates visual interest. It's a brave decorating move, but taking slight risks are worth it in terms of pushing boundaries and achieving an enchanting overall mood.
Finally, how should we care for our papered walls?
If you're wallpapering a bathroom or very busy area in the house, we suggest applying two coats of decorator's varnish (our favourite is Polyvine's 'Dead Flat') over the top using a short flock roller, ensuring the wallpaper is dry first. This will make it splash-resistant and help protect against finger marks, stains and scuffing over time.