Feature
#LibertyCraftClub
Calligraphy with Nimi
Learn the art of calligraphy with our very own Home Copywriter
Shop Stationery
As we adjust to life indoors, our team wanted to share how they are staying inspired and creative at home – offering up some crafty tips and tricks along the way. For this instalment, Home Copywriter Nimi shows us how to master the art of calligraphy.

#LibertyCraftClub
"We're always frantically typing or texting, constantly exhausting our hands. Calligraphy has a rhythmic beauty, allowing arms to move in a meaningful way, whilst creating fluid and original written art. There is no time limitation or need to rush, which, I find makes it a great therapeutic practice. I also love the personal and thoughtful element of calligraphy – something special for friends and family to admire."
What you'll need
Pen holder
Calligraphy nib (Nikko G recommended for beginners)
Black ink (Higgins Eternal ink recommended)
80/90gsm paper pad
Lint-free cloth
Pot of water
Lined paper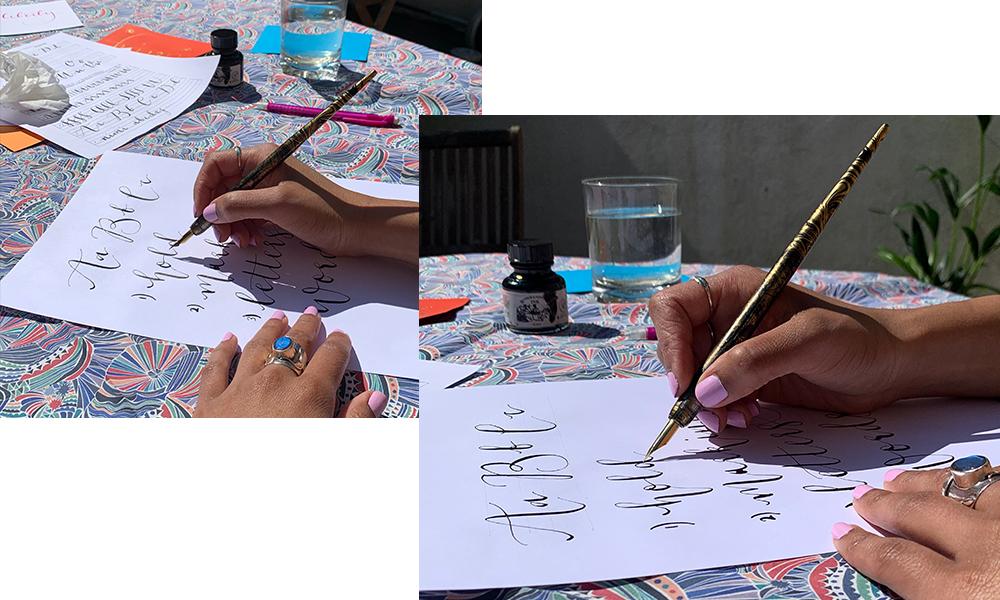 Hold
Calligraphy requires fluid, arm motions. Hold the pen lightly and ensure shoulders, arms and fingers are relaxed. Place your index finger on the lower end of the penholder and angle it slightly to allow the ink to flow (and avoid inky hands!). Check that you're sitting up straight and have two feet on the floor. Dip the nib into the ink, covering just above the vent to prevent constant re-dipping. Use the rim of the ink jar to rub off any excess ink.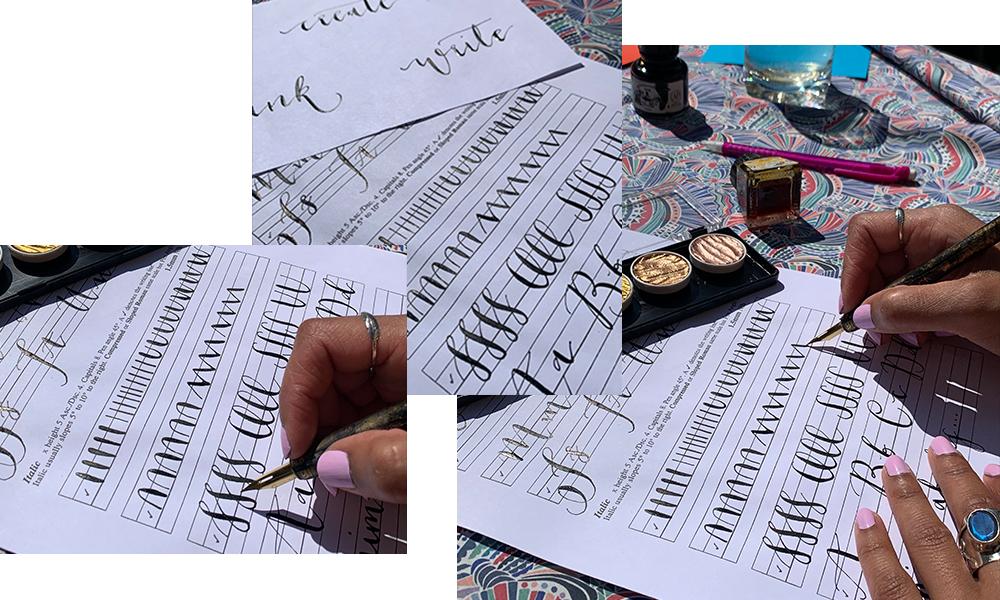 Marking
Before you start forming words and joining letters, it's important to practice basic shapes and lines. Relax your shoulders and exhale. On a dotted pad or lined calligraphy paper, start by continuously practicing thin, short strokes that are consistent in width and height. Then, apply more pressure to create thicker lines – this helps the ink to flow. Once you've mastered both thin and thick strokes, try combining the two together. Remember to apply swift, light pressure on upstrokes and weightier pressure on downstrokes.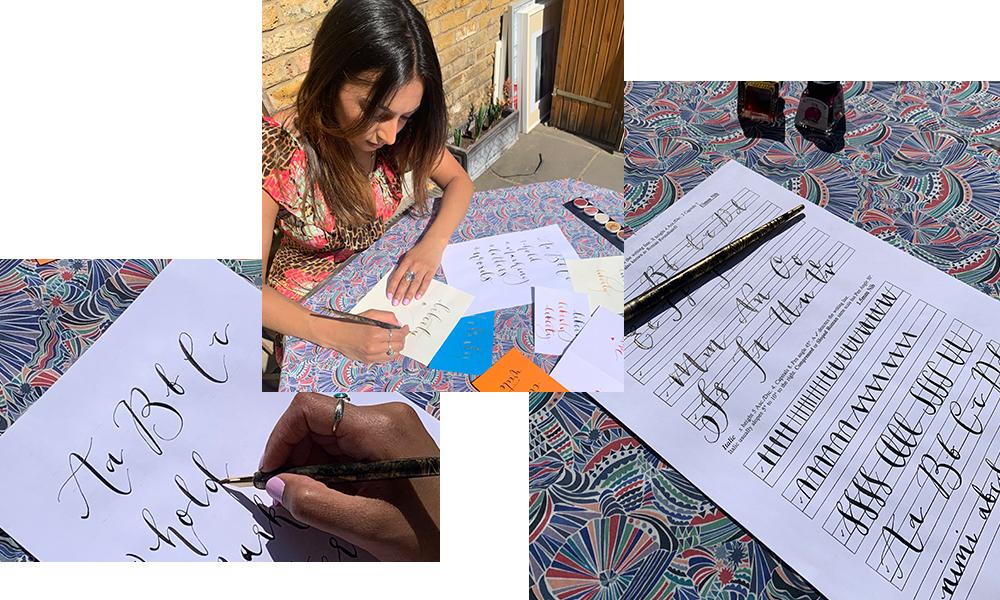 Letters
Once comfortable with the various nib directions, you can move onto letter formation. Checking the proportion of each letter is vital. Ensure all the ascenders and descenders are the correct height and width to create a uniform script. Set out the ascender line, descender line and baseline on a dotted or lined calligraphy pad and repeat the structural shapes of each letter to develop muscle-memory. Try out different angles and styles.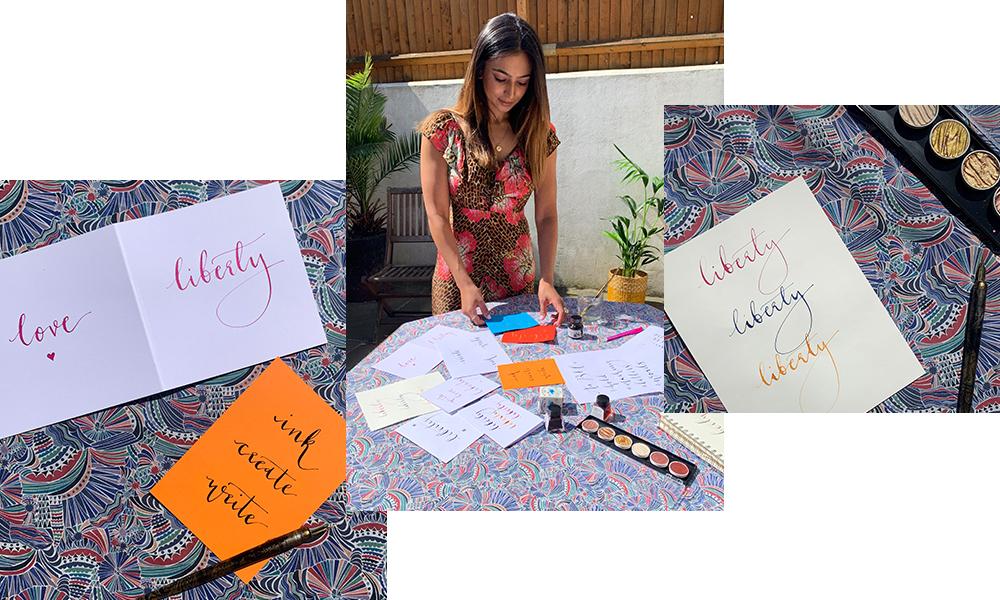 Words
When creating words, pay attention to the connectors and tails of letters to create an evenly-spaced look. Keep an eye on proportions, consistency and angles, making sure letters are of similar width, height and are all parallel. Repeat and write away!