The Gallery, curated by Liberty in partnership with the Crafts Council
From 21st April to the end of July Liberty will be hosting interactive workshops, talks and events in partnership with the Crafts Council and their independent makers. A selection of work from the independent makers will also be displayed and offered alongside our own Liberty designs, with an opportunity to purchase in store, online at libertylondon.com or made to order.
The Crafts Council is the national charity for craft. We inspire making, empower learning and nurture craft businesses. We believe craft skills and knowledge enrich and uplift us as individuals and can change our world for the better. Each maker showcased at Liberty has been selected from the Crafts Council directory, an online platform of over 800 makers.
@LIBERTYLONDON @CRAFTSCOUNCIL #LIBERTYDISCOVERS


Interactive Workshops & Events
The interactive workshops and events have limited capacity, please book a ticket ahead of time to secure your place using the links shown below.

They will be hosted at Liberty on Floor 4 in the Gallery space.


30th June, 18:00-19:30
Weaving Workshop with par-avion co. - Sold out
Join Monica Cass, one half of design duo par-avion co. for this introduction to Scandinavian style seat weaving. Working on a wooden frame, you will be shown basic weaving techniques utilising Danish cord, as used by par-avion co.

Danish Cord is a 3-ply twisted paper cord that is a traditional weaving material used in Scandinavian chairs. The cord is produced in Denmark from FSC certified forests and is a sustainable and durable material.

Duration – 1.5 hrs
Ticket price - £10


7th July, 18:00-19:30
Abeer Kayani Workshop - Sold Out
Join award winning textile artist Abeer Kayani to explore the art of tangible memory inspired by her creative practice which originates from her cultural roots in Pakistan and journeys through screen-printed and hand-dyed processes.

Under Abeer's guidance you will learn to layer intricate patterns, play with abstract shape, form and understand the fundamentals of working within a composition. She will share her knowledge on use of luscious, captivating, bold colours from which you will develop your own response using precious objects to create an ever-lasting memory through colour analysis and painting techniques on watercolour paper.

Duration – 1.5hrs
Ticket price - £10


Abeer Kayani
Abeer Kayani is an emerging, award winning Textile designer-maker who takes inspiration from her cultural roots in Pakistan, where she grew up surrounded by luscious prints, embroidery and jewellery.

Abeer works in a highly experimental way using hand dye and screen-printing techniques as well as designing digitally. She received recognition from Society of Dyers and Colourists for quality craftmanship and exceptional use of colour. The Transition Collection is a series of digitally printed scarves inspired by various handcrafted items such as a handwoven button which travelled with Abeer on a very significant journey from Pakistan. Abeer enjoys working on meaningful projects that bring out stories expressing the relationships that humans form with places and objects. The Transition Collection takes precious objects of sentimental value, translating them into wearable art pieces.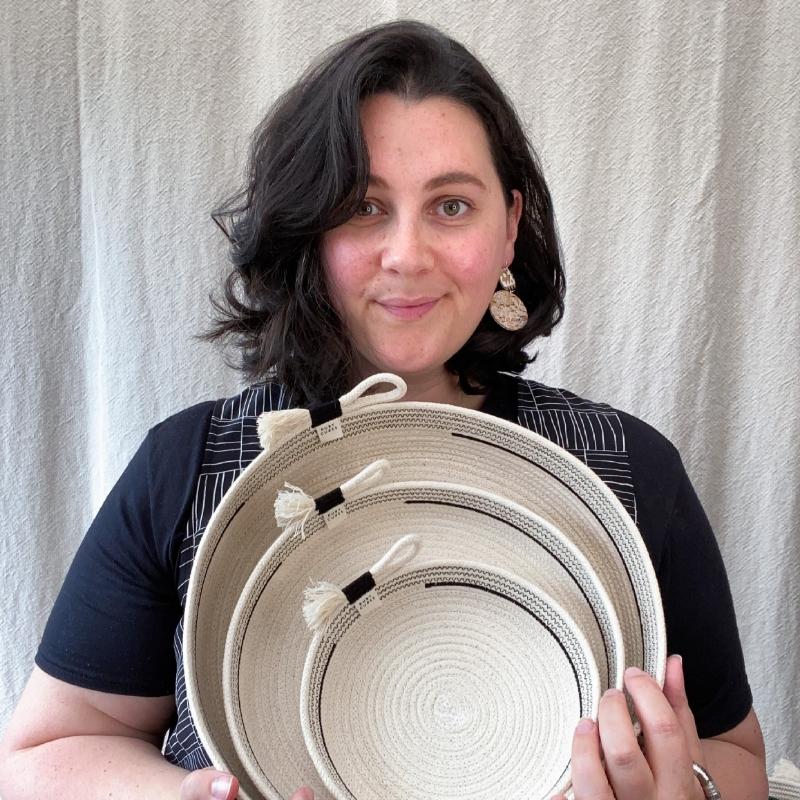 Ruby Cubes
Ruby Cubes is a textile studio, based on the idea of experimentation and exploration. Full time artist Jessica Geach founded Ruby Cubes back in 2015 as a way to fully explore her lifelong passion for textiles. Having always had an innate love for tactile objects, Jessica soon discovered that her greatest passion lay in creating 3D objects that were both tactile and purposeful.

"My favourite material to work with is unbleached cotton rope. The way it is braided makes it so soft, tactile & fantastically strong, whilst still being wonderfully flexible. I am endlessly fascinated by the process of turning piles of braid into tactile, purposeful bags, baskets and homewares. I take the greatest pride in my work, because it encompasses my business, my art and my personal journey in textiles. Most of my inspiration is derived from the amazing diversity of my surrounding landscape. Living in Dartmoor means that I am never far from breathtaking hilltops, or refreshing river walks."

In March 2022 Jessica's new project book "Artisan Ropework" was published. Featuring 15 enjoyable projects, the book takes you on a journey to learn the fundamentals of stitched ropework and builds your vocabulary to allow you to create more complex pieces such as beach bags and hanging baskets.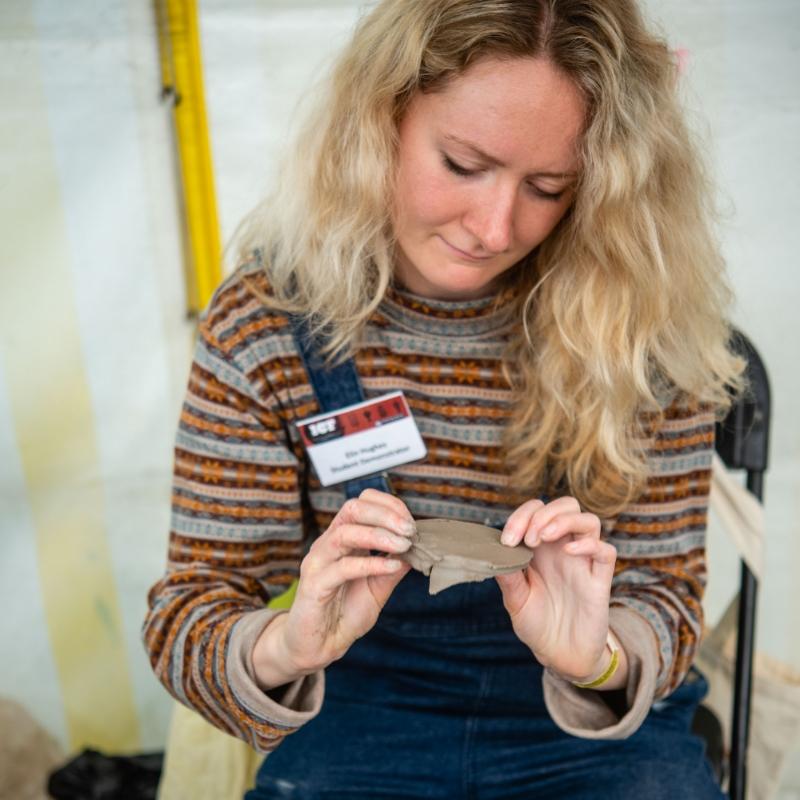 Elin Hughes
Piecing together fragments from a range of eclectic influences, Elin creates mischievous vessels which explore personal and Welsh identity and the role of skill in today's society. She manipulates clay as a metaphor for the continually shifting natures of these identities.

Hughes approaches making as unselfconscious improvisation, nurturing that sense of childhood curiosity from when awareness of individual identity first started to develop. These 'Grandma Punk' pots combine kitsch patterns from historical Welsh ceramics with forms that reject pretence and refinement. They embrace irregularity and uncertainty, joy and humour; values which Hughes views as central to our identity.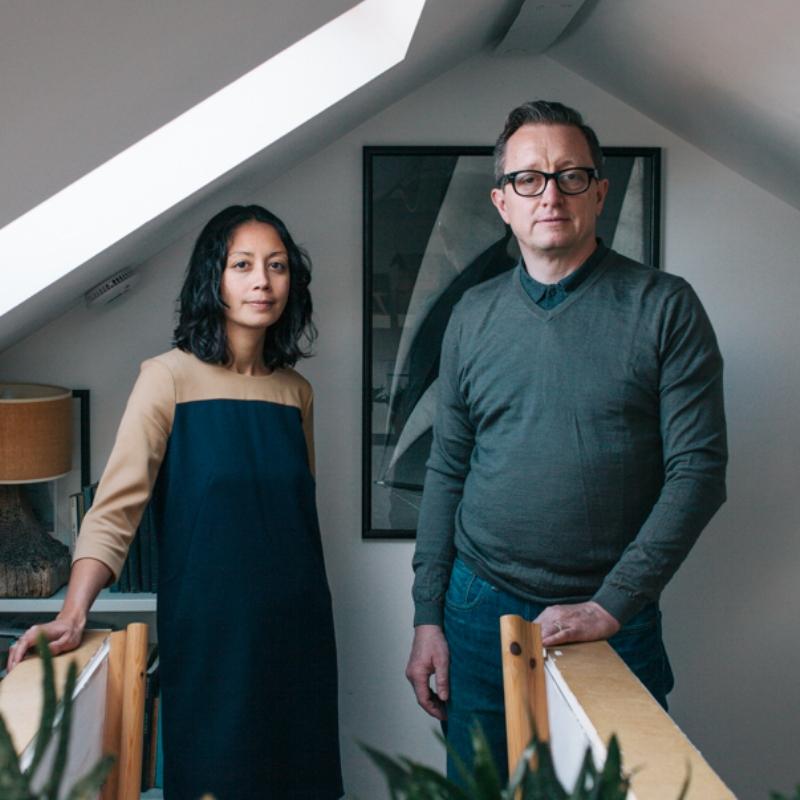 par-avion co.
par-avion co. is a Norfolk, UK based furniture and design partnership founded by Simon and Monica Cass. With diverse backgrounds spanning architecture, lighting and furniture, their work is evocative of a carefully crafted process that mixes traditional craft and modern styling.

par-avion co.'s focus on sustainability is rooted in their ethos of sourcing local & natural materials, making products that are built to last and operating under a zero-waste economy.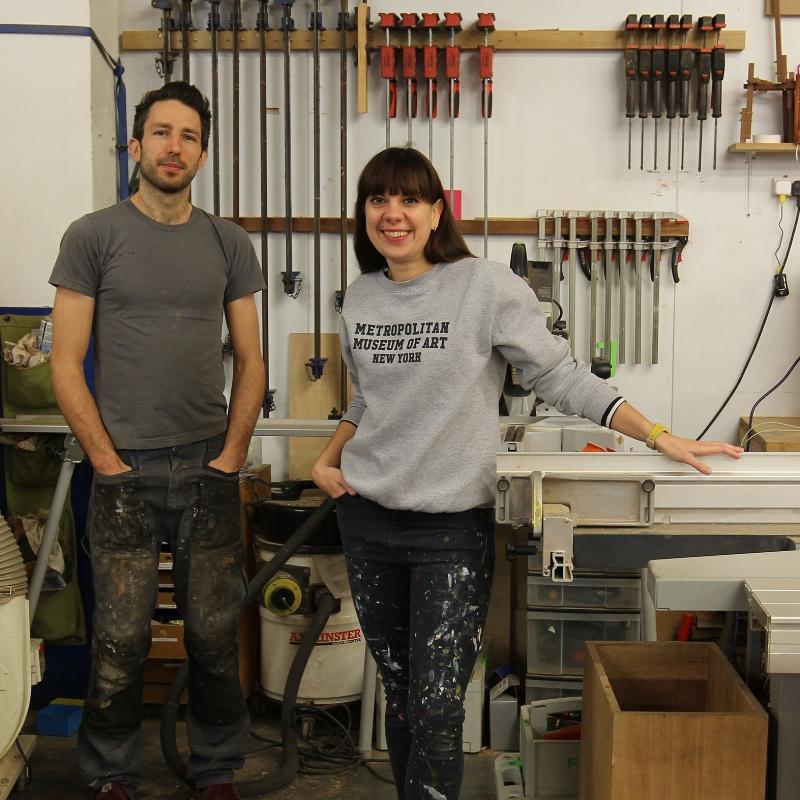 Porter + Trundle
Since 2019, London-based artists Sarah Emily Porter and James Trundle have collaborated as Porter + Trundle to create playful, sculptural works that remind us to be both bold and daring. Using a combination of traditional craft techniques with digital process to manipulate wood into ambiguous forms, to create work that is unconstrained by the expectations associated with the material. The application of colour, a key component of their work, obscures the craftsmanship invested, further simplifying the forms to allow them to drift into pure abstraction.

Originally trained in fine art, they seek to occupy the space between craft and design, and the functional and the dysfunction, to exhibit work that is the perfect fusion of colour, form, and craftsmanship with a meticulous attention to detail.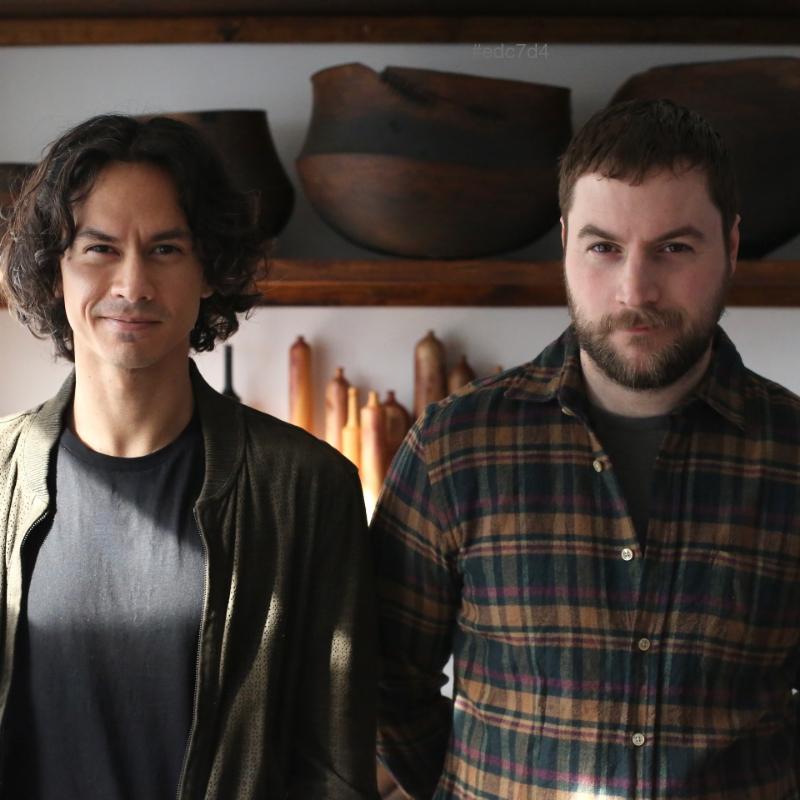 Ash & Plumb
Ash & Plumb was created in June 2020 by Sussex based crafters in wood Barnaby Ash & Dru Plumb, born out of a desire to honour naturally sustainable materials crafting unique and sculptural works that breathe life into the living spaces they inhabit.

Passionate about honouring natural materials through the traditional craft of woodturning, they work with locally and sustainably sourced British timbers, often working with and processing responsibly felled logs to create unique forms that characterfully warp during the drying process. Barnaby & Dru work out of a small workshop on the south downs in Piddinghoe just outside of where they live in Brighton.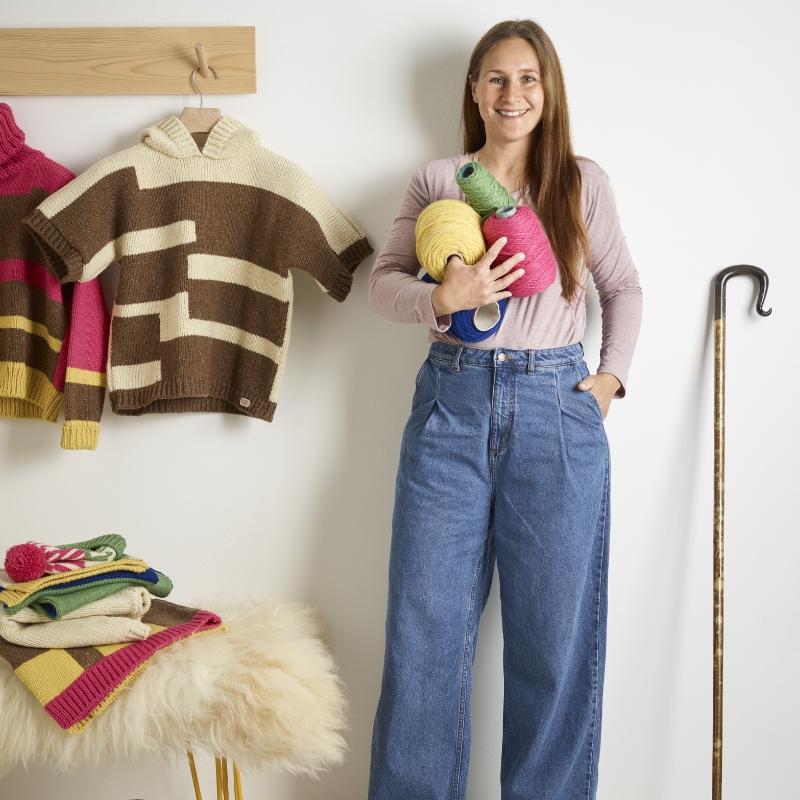 Loopy Ewes
Katie Allen is a Shepherd and Maker based in Gloucestershire, working to connect people with the reality that our textiles come from farming, just like our food. Under her brand 'Loopy Ewes', she creates 100% traceable knit garments and homewares; grown, spun and handmade in South West England using the wool from her flock of native breed sheep.

As the farmer, designer and garment producer for her collection, she takes responsibility for each stage of production - from getting her hands dirty in the field, to fully fashioning each garment on her knitting machine. She uses shepherding processes that honour soil health and biodiversity to encourage a wholesome farmed environment, alongside a commitment to local processing, and slow, hand-crafted production.

Her compassion for her sheep and the land they graze, combined with an innovative commitment to regional, low-carbon processing enables her to work sustainability all along the supply chain, creating an important connection between people, place and product. Her work demonstrates how British wool can be grown regeneratively and simply processed, to create textiles that are beautiful, honest and good for the earth.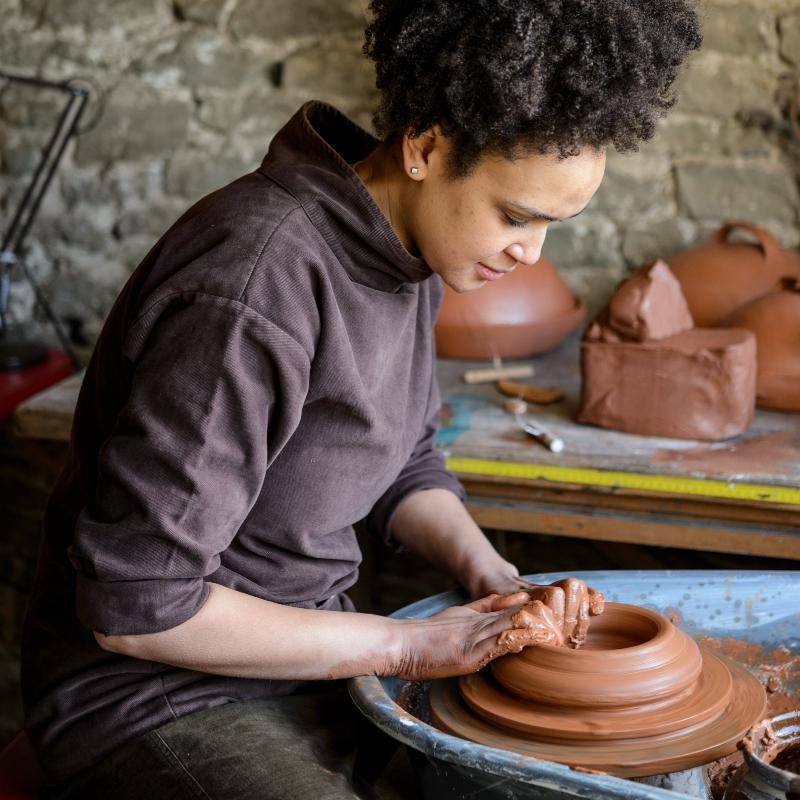 Isatu Hyde
Working solely on the potter's wheel, Isatu makes functional ceramics for the home. Her inspirations draw heavily on pre-industrial craft and sculpture of all materials from around the world. She enjoys working with ancient forms in a contemporary context, taking pleasure in simplicity of form paired with subtle sophistication of line and body.

Isatu has a workshop on the Shropshire/Herefordshire border where she makes repeated batches of new and established designs, refining them each time and allowing the designs to develop and evolve indefinitely. She has a particular interest in pots relating to cookery and serving and works partly with clays and finishes that can be taken directly from the stove-top to table.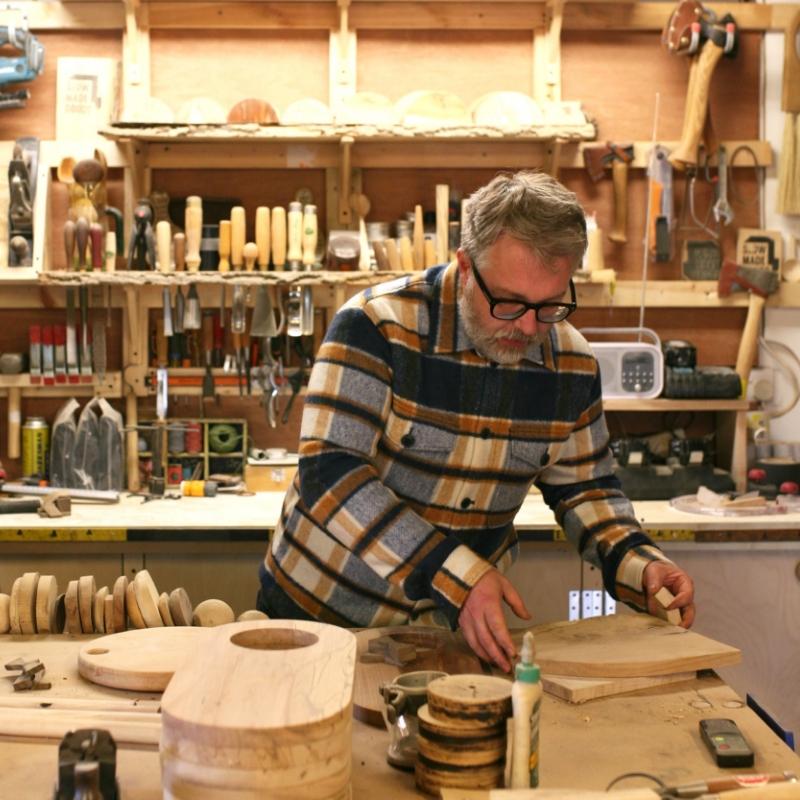 Slow Made Goods
Slow Made Goods was born from a love of functional design where quality and utility are intrinsic. Founded on a belief in a circular economy in which we keep resources in use for as long as possible, designing waste out of products and recycling what little waste is created.

By using higher-quality materials and craftsmanship, items attain a longer lifespan that harkens back to the craft's golden era of the past. Materials are locally and sustainably sourced and packaging is 100% recyclable. Due to the unique nature of the materials each of their items is one-of-a-kind, embracing the natural flaws in each piece.They design and create a selection of timeless products combining traditional and contemporary techniques offered for a reasonable price and handcrafted in their Norfolk workshop. Slow Made Good's core values are to celebrate doing things at the right speed, savouring the hours and minutes rather than just counting them, working as well as possible, instead of as fast as possible.